---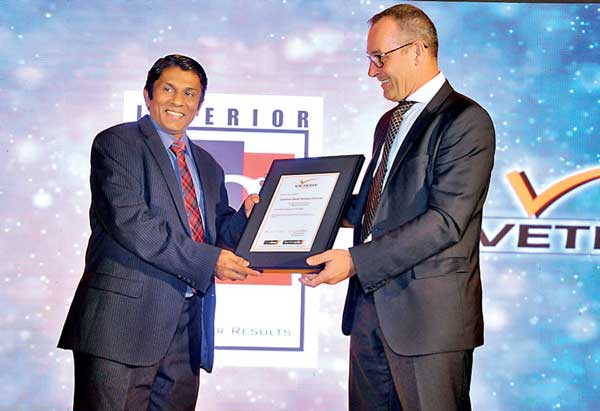 Seen here Managing Director of Vetedy Patrick Duemer handing over the certificate of dealership to Managing Director of Creation Master Builders Rohan Visidagama.
Pic By Varuna Wanniarachchi
By Supun Dias
Vetedy, a renowned brand which masters in outdoor decking and wall cladding made in Luxembourg, was introduced to the Sri Lankan market by partnering with Creation Master Builders (Pvt)Ltd.
It was launched at a gala event held recently at the Cinnamon Grand Hotel under the patronage of Managing Director of Vetedy Patrick Duemer and Managing Director of Creation Master Builders Rohan Visidagama.

"We started our operations in 1989 in Luxembourg. As we expanded our business we identified that we have to look for potential partners and currently we have two major factories in Africa and Indonesia. Sri Lanka is our 51st destination that we have entered as we see a rapid development process underway in the country. So there will be lot of benefits for our customers in using Vetedy," Duemer said.

Vetedy outdoor decking is faster on installation with no visible screws and it is available in three widths; open joint system with ventilation, rot proof wood and thermo treated.
It comes under two categories which is techniclik; for the wall cladding and softline; for outdoor decking.
Managing Director of Creation Master Builders, Rohan Visidagama said that his company is also the sole agent for SLIP Doctors USA – anti slippery products which is the only anti slippery product available in Sri Lanka and also the sole agents for Bergo-Multy sports flooring from Sweden which is the number one sports flooring brand in Europe.

"Vetedy is a revolutionary product and we are hopeful that our clients especially in the hospitality industry will be keen to purchase it," he added.
The Chief Guest of the event, renowned architect Professor Lakshman Alwis said that the Vetedy will revolutionize the market as the country is building new hotels, hospitals and apartments at a rate, therefore the customers would want to have a product that is long lasting and strong.