---
Earnings down 30% to Rs.2bn
Revenue up 9% to Rs.29.1bn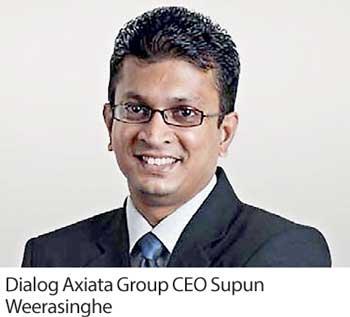 The social media blockade and business slowdown following the Easter Sunday attacks and stiff competition overshadowed Dialog Axiata PLC's June quarter (2Q19) earnings, the interim accounts released to the Colombo Stock Exchange showed.

Dialog Axiata, Sri Lanka's largest telco reported earnings of 24 cents a share or Rs.1.99 billion for the quarter under review, down 30 percent year-on-year (YoY) on revenue of Rs. 29.1 billion, up by 9.2 percent YoY. On quarter-on-quarter (QoQ) basis, the group's net profit contracted by 59 percent compared to Rs.4.8 billion reported for the first quarter (1Q19) while sales remained flat recording a 0.3 percent QoQ marginal growth.

Dialog Axiata in a statement said aggressive competition and data re-pricing towards end of 1Q19 further aggravated the impact of Easter Sunday attacks on its revenue and profitability.
Dialog Axiata's earnings before interest, taxes, depreciation, and amortization (EBITDA) declined 9 percent QoQ to Rs.11 billion during the quarter under review amid muted revenue growth and escalation in costs.

The group's direct cost rose to Rs.16.45 billion in the quarter compared to Rs.13.79 billion, a year earlier.

The sales of Dialog Broadband Networks (DBN) featuring the group's fixed telecommunications, broadband and international businesses remained flat on QoQ basis during the June quarter at Rs.6.7 billion.

The post-tax profit of DBN recorded a decline of 26 percent YoY during the six months ended June 30, 2019 (1H19) to Rs 0.88 billion due to increase in depreciation induced by aggressive investments into fixed 4G LTE.

The group's capital expenditure for 1H19 was recorded at Rs.8.7 billion, which was mainly directed into investments in high-speed broadband infrastructure.

The revenue from Dialog Television (DTV) operations grew by 23 percent YoY and 5 percent QoQ to Rs.2.2 billion during the quarter as the subscriber base reached 1.3 million.
However, post-tax loss marginally widened to Rs.269 million in 1H19 compared to a net loss of Rs.256 million for the corresponding period in 2018.

Dialog Axiata's contribution to government coffers declined in 1H19 to Rs.14.8 billion compared to Rs.17.8 billion in 1H18. The company remitted Rs.5.2 billion and Rs.9.7 billion in direct taxes and levies to the government during 1H19.

The group's earnings for the 1H19 rose to 84 cents per share or Rs 6.8 billion from Rs 5.6 billion a year earlier, on a revenue of Rs.58 billion.

As at June 30, 2019, Dialog's Malaysian parent Axiata Investments (Labuan) Limited held 83.32 percent stake in the company.

State-controlled pension fund Employees' Provident Fund (EPF) had increased its stake in Dialog Axiata from 2.22 percent to 2.92 percent during the quarter under review.