---
Industry and Commerce Minister Rishad Bathiudeen yesterday rubbished rumours about a possible privatization of the state owned Lanka Sathosa chain to a diversified conglomerate in the country.
"Though we usually do not bother about such social media propaganda, since a leading company is also mentioned, I am highlighting the truth here today" said Bathiudeen.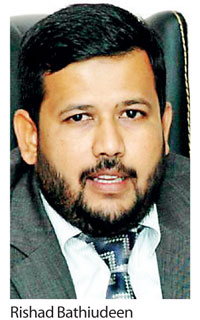 The minister was addressing the award night of Lanka Sathosa-Hemas joint promotion campaign called 'Sathosata Enna Car Eken Yanna', a marketing initiative partnered by Lanka Sathosa.
Lanka Sathosa is the largest state-owned retail network. It currently has 377 branches and the minister expects to increase the number to 500 by end of this year.
Lanka Sathosa recently outsourced its distribution logistics to Hemas group. A KPMG study had shown that that Lanka Sathosa's distribution logistics, among other issues, to be a bottleneck hampering the progress of the institution.
"We called open tenders and one of the bidders, Hemas, won it having fulfilled the criteria.
Thereafter I did not by myself decide to award the tender to Hemas, but I asked permission from the Cabinet of Ministers and received the go-ahead to outsource distribution logistics to Hemas.
I even removed Lanka Sathosa's personnel recruitment procedure from it and handed it over to the consultancy firm KPMG who recruited qualified personnel to run it. We did not influence KPMG's recruitments," said Bathiudeen.