---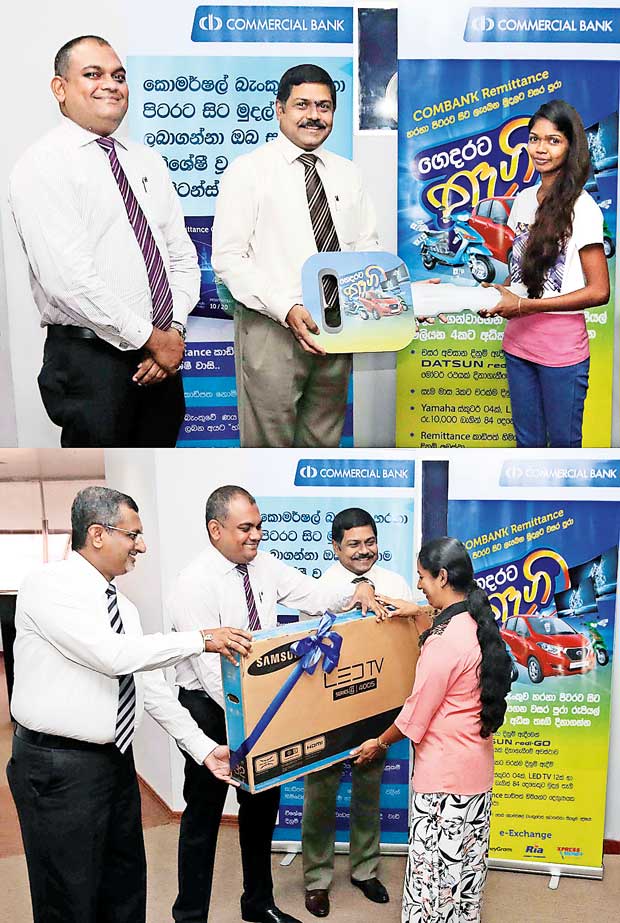 Two of the winners of the first quarterly draw of the Gedarata Thégi remittance promotion receive their prizes from the bank's Chief Operating Officer S. Renganathan (above, centre) and from Deputy General Manager Marketing Hasrath Munasinghe and Head of Digital Banking Pradeep Banduwansa (below, second left and extreme left, respectively) at Commercial Bank's head office in Colombo
Twenty five customers of Commercial Bank of Ceylon, who received remittances in the first quarter this year, were rewarded this week at the first prize presentation of the bank's Gedarata Thégi remittance promotion.
One of them won a Yamaha scooter, three received 32-inch LED TVs and 21 were presented with Rs.10,000 each.
The winners were chosen at the first quarterly draw conducted under this exciting promotion, which runs through 2017 and will culminate with one lucky customer winning the grand prize of a Datsun Redi-GO car. In all, 101 gifts including the car, four scooters, 12 LED TVs and 84 cash prizes can be won via the Gedarata Thégi remittance promotion.
The users of e Exchange, Commercial Bank's own money transfer service, as well as those who receive remittances via MoneyGram, Express Money and Ria from January 1 to December 31, 2017 will automatically go into a series draws in respect of each quarter of the year to win these prizes.