---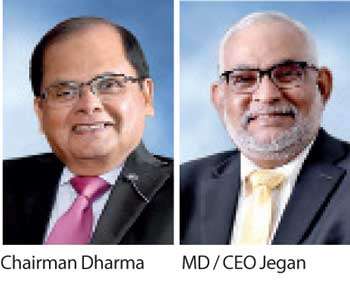 Commercial Bank of Ceylon PLC (ComBank) recorded higher top and bottom line gains during the quarter ended in March 31 (1Q18), as Sri Lanka's largest private lender by assets expanded its loan book quite substantially and improved margins.

However, the lender had to provide more for possible bad loans.
The interim results released to the Colombo Stock Exchange yesterday showed the bank with an asset base of little over Rs.1.2 trillion reporting earnings of Rs.4.32 a share or Rs.4.34 billion, up 14 percent over the same period last year. The net interest income rose by 33 percent year-on-year (YoY) to Rs.11.7 billion.
The bank gave Rs. 43.4 billion in new loans during the quarter under review, registering a growth of 5.8 percent.

Meanwhile, the bank stretched its net interest margin to 3.97 percent from 3.62 percent in December 2017 reflecting the higher rates it fetched from both existing and new loans during the period.

Funding cost may also have come down as the bank wasn't in the fray for deposits at higher rates as some other banks did. However, the bank's deposit book grew by a stronger Rs.55.5 billion or 6.5 percent to Rs.905.6 billion. The low cost funding base measured through current and savings account (CASA) ratio little changed during the three months at 39.7 percent.
The total operating income before any loan loss provisions were Rs.14.9 billion, up 27 percent YoY.

However, the bank made a hefty impairment provision of Rs.1.6 billion against Rs.303.3 million provided during the same period, last year.

The asset quality also dented with the gross non-performing loan ratio rising to 2.20 percent from 1.88 percent in December 2017.

Meanwhile, ComBank measured an estimated impact on its total impairment provisions from new IFRS 9 to be between 25 percent and 35 percent.

The banks are however allowed to prepare the interim financial statements under the current incurred loss model of SLRFS 39 on financial instruments until the year end with only the estimated impact from IFRS 09 is disclosed in a note.

The adoption of the new accounting standard will also shrink the banks' net asset between 4 percent and 5 percent while the total capital adequacy ratio by 50 to 70 basis points.

As at March 31, 2018 DFCC Bank PLC, Employees' Provident Fund (EPF) and high net worth investor Indra Silva remained as the top three shareholders of the bank with 13.58 percent, 9.64 percent and 8.08 percent stakes, respectively.

The government held close to 20 percent in the bank collectively through EPF, Sri Lanka Insurance Corporation and Employees' Trust Fund.

ComBank in January announced to raise Rs.10 billion via a BASEL III compliant subordinated debenture issue with the conversion feature to beef up its tier II capital to support growth while staying in line with higher capital ratios.