---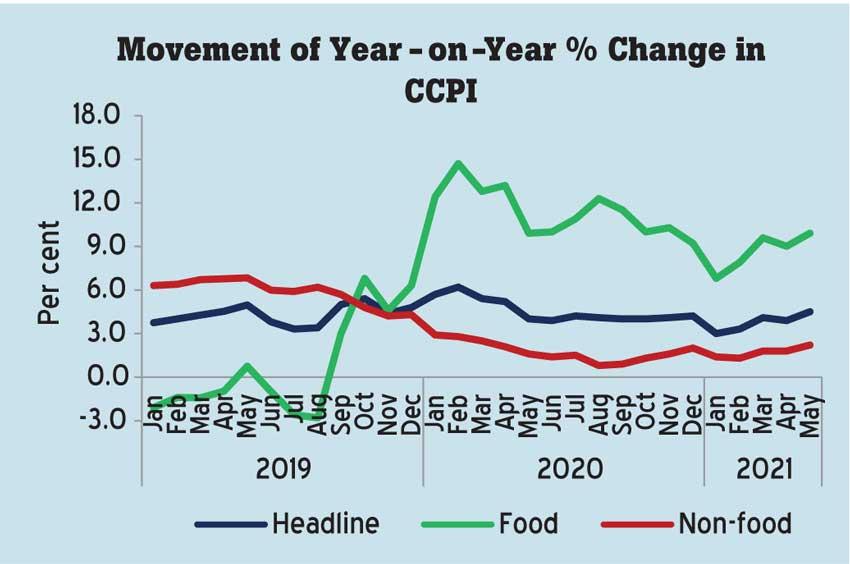 Both food and non-food prices contribute to acceleration
Core inflation increases to 3.2% from 3% in April
Consumer prices in the Colombo district accelerated in May as prices of both foods and non-food items rose from a month earlier, quite contradictory to the behaviour of prices when large swaths of the economy remain shuttered due to virus related restrictions.
The prices measured by the Colombo Consumer Price Index (CCPI) rose to 4.5 percent in the twelve months to May 2021, accelerating from 3.9 percent in April 2021, though consumer demand subdued significantly due to expansive restrictions.

Typically price pressures have to ease when the people are forced to cut down on their normal consumption patterns, helping to dissipate the demand-driven inflationary pressures, which were building up through April.
However, food prices rose by 9.9 percent in the twelve months to May 2021, up from 9.0 percent in April, while the month-over-month prices too climbed 2.2 percent from a contraction in April in an indication that food prices have continued their climb while the consumers were left with limited options for shopping.

Perhaps the heavier basket sizes, which resulted from concerns of prolonged lockdowns, may have also driven the prices of food items in May as people sought to stockpile staples and other essentials before they ran out.
Meanwhile, prices of key staples such as rice and coconut oil rose the most during May as earlier highlighted by Mirror Business, while prices of sea fish also rose sharply, among certain other food items.
The prices of chicken, eggs, fresh fruit and vegetables declined.

Meanwhile, non-food prices rose by 2.2 percent in the twelve months to May 2021, up from 1.8 percent while on a M-o-M basis too the prices rose by 0.5 percent, defying what would have otherwise resulted in a period where spending on travelling, clothing and education was nearly absent or greatly curtailed.

Spending on healthcare rose the most among the non-food categories under which payments to private hospitals and nursing homes were the highest followed by payments to medical laboratories.

House maintenance spending also rose during May reflecting that people who spend most of their time at homes due to lockdowns are engaged in little improvements or maintenance functions. Their spending on LP gas also rose, according to price index data.

Meanwhile, the so-called core prices measured barring the often-volatile items such as food, energy and transport rose by 3.2 percent in the twelve months to May 2021, up from 3.0 percent in April 2021.