---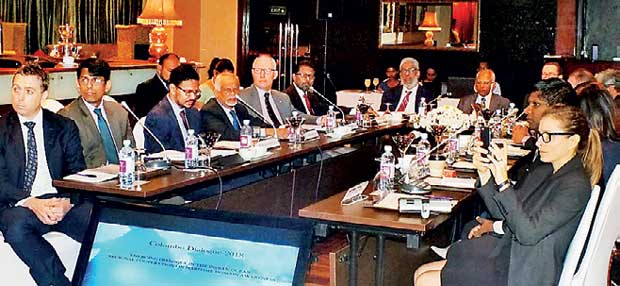 The Pathfinder Foundation, together with an Australian delegation led by the National Security College at the Australian National University and Carnegie India held a one-day Track II trilateral conference titled 'Colombo Dialogue: Emerging Dialogue in the Indian Ocean - Regional Cooperation on Maritime Domain Awareness' at the Cinnamon Grand, Colombo recently.

The dialogue covered themes such as maritime security in the Indo-Pacific Oceans and transnational security threats; challenges in building regional maritime security architecture in the Indian Ocean; and governance at sea and maritime domain awareness.

This trilateral forum was held with the participation of Indian, Australian and Sri Lankan academics and subject matter experts on maritime security, maritime strategy and regional cooperation. On the Australian side, Prof. Rory Medcalf, head of the National Security College of the Australian National University, Dr. David Brewster and Commodore (Retd.) Richard Menhinick presented papers. Dr. Raja C. Mohan, Vice Admiral Anil Chopra and Ms. Darshana Baruah presented papers representing Carnegie India. On the Sri Lankan side, papers were presented by former Commanders of the Sri Lanka Navy, Admiral Dr. Jayanath Colombage, Admiral Travis Sinniah and Barana Waidyatillake representing the Lakshman Kadirgamar Institute.

The Chairman of Pathfinder Foundation Bernard Goonetilleke delivered the welcome address and the High Commissioner of Australia for Sri Lanka; Bryce Hutchesson graced the occasion as the chief guest and delivered the opening remarks. High Commissioner Hutchesson noted that Australia, Sri Lanka and India had increasingly congruent security interests, particularly when it came to the stability and openness of the Indian Ocean.

He said that for Australia, no long-term foreign policy goal was more important than keeping the Indo-Pacific region peaceful and prosperous at a time of change.

He emphasised that it made good sense for Australia, Sri Lanka and India to develop a strategic conversation, including through second track dialogues like the Colombo Dialogue. Arindam Bagchi, Deputy Indian High Commissioner graced the inaugural session as guest of honour. Lalith Weeratunga, Senior Fellow of the Pathfinder Foundation delivered the concluding remarks.

All participants agreed that a rule-based maritime order is essential in the Indo-Pacific oceans, in order to maintain freedom of maritime commerce. A new world economic order is developing in this region and hence the Indian Ocean, and the Pacific Ocean have become the focal point for major maritime users and a range of non-state actors. There was general agreement that we need to move from cooperation to collaboration on maritime security.

The participants opined that the dialogue would be beneficial to efforts being taken by Sri Lanka as the coordinator of the Indian Ocean Rim Association's maritime safety and security working group.
The Australian High Commission office in Colombo sponsored the Dialogue. It's concluded with commitment to endeavor to pursue issues highlighted during the deliberations at a future discussion and to bring discussion outcomes to the attention of policy makers of the three countries that took part in the dialogue.