---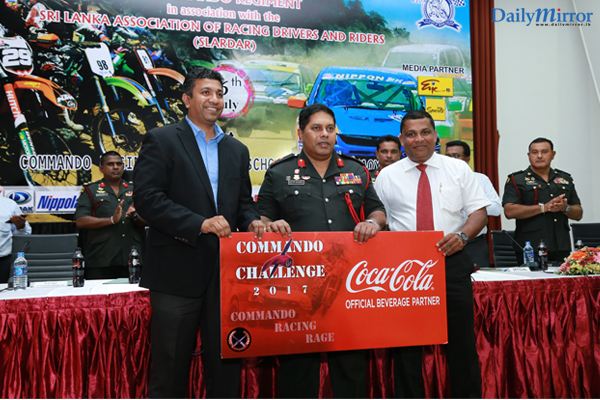 (L-R) Shamal Gunawardene – Country Sales and Commercial Manager, Major General,Ralph Nugera - Chairman Commando Challenge 2017 and Nishan Wasalathanthri – President, SLARDAR
Coca-Cola remains the first choice for Sri Lankan youth with its partnership at the Commando Challenge 2017. Organized by the Commando Army, Sri Lanka Auto-sports Drivers' Association (SLADA) and the Sri Lanka Association of Racing Drivers & Riders (SLARDAR), Coca-Cola Beverages Sri Lanka Ltd. is the official beverage partner for this event scheduled on July 15th and July 16th.
Commenting on the association, Shamal Gunawardene – Country Sales and Commercial Manager, Coca-Cola Beverages Sri Lanka Ltd. said, "A must do for youth and sports enthusiasts, this premier event in the nation's racing calendar will witness a spectator base of approximately 10,000 people watching over 200 participants test their driving skills on the fastest and longest track for race cars and motor cycles in Sri Lanka. Coca-Cola is delighted to be part of this thrilling ambience and to bring alive a spirit of fun and sharing of special moments with loved ones over the energizing taste of Coca-Cola." "The youthful, high energy and dynamic event has now become synonymous with Coca-Cola." He further added.
The Commando Army unit, a specialized unit with its training school in Uva, ensures this is one of the most thrilling annual sports events for racing professionals, enthusiastic spectators and thrill seekers. Known for having no limits on bends, the race is extremely challenging.
This year, the track has achieved international standardization components with organizers having taken adequate safety precautions through advanced engineering measures. A high level of safety has been maintained in keeping with the fact that this is also the fastest and longest track in Sri Lanka. Several thousand tyres have been used to make safety bunds for safety of drivers.
It is expected to be a high adrenalin race that infuses excitement and anticipation amongst contestants and spectators alike.