---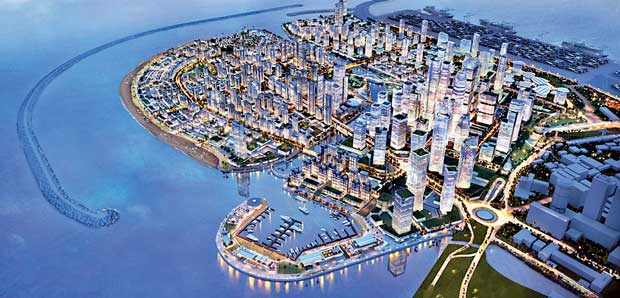 By Zahara Zuhair
As they are in the process of looking for prospective investors, the Chinese officials of the Colombo Port City, the offshore city being built on a man-made island, said that any interested developer or investor could contact them to invest in the project.
"We are trying to get people interested in investment. There is general interest in the market. There is no specific number of investors. If they like to buy a land or any other form of investment, the investor can look at the land and talk to us. Anyway at the moment we are not looking at reservations," CHEC Port City Colombo (Pvt.) Ltd, Chief Sales and Marketing Officer Liang Thow Ming said.
"The whole piece of land is owned by the Sri Lankan government. We are getting it on a 99-year lease. When selling to the investors, the Sri Lankan government will issue a fresh 99-year lease to them (third party)," Ming said.
As already a number of investors have shown interest to invest, they declined to provide further details on them but said that they would provide more information in due course.
Meanwhile, Ming said that while they expect investments from India, the Middle-East and Southeast Asian region, still they haven't actively cultivated interest in the Chinese market because they want to balance an international image for the project.
An estimated total of US $ 15 billion will be invested on the Colombo Port City, including the US $ 1.4 billion (over Rs.210 billion) spent on infrastructure and reclamation of sea, it
was said.
"Reclamation and infrastructure is US $ 1.4 billion. US $ 13 billion for the construction of the building, it's just the estimation, not the final with reclamation and infrastructure we are spending about US $ 15 billion," Ming said.
The whole project, which is projected to be completed by 30 years, will span across 269 hectares of land and out of that, 178 hectares will be liveable areas and the remaining land will be for roads, parks, open spaces, etc.
The infrastructure and reclamation of Phase I is expected to be completed by 2020 and the first building on that land can be expected by 2020-2023, CHEC Port City Colombo (Pvt.) Ltd Director Planning and Development Lim Kian Siew said. It was noted that they expect to hand over first piece of land for building construction by mid-2018.
Commencement of phase II will depend on the pickup of phase I, it was noted. Phase I includes 42 percent of the project and phase 11, 58 percent of the project.
The whole master plan is divided into five distinct areas, which are the financial district, international island, marina, central park living and island living.
It was said that the financial district could accommodate a population of 11,000, international island a population of 23,000, marina about 5,000 people, central park living a population of 10,000 and in island living about 26,000 people, as estimated.
These revelations were made at the launch of their revamped website (www.colomboportcity.lk) with all relevant information for the public to have a better understanding of the project. On the website, the monthly reclamation progress of the project can be viewed, captured
from drones.
According to the website, it was noted that for the whole project approximately 3.85 million cubic meters of rock stones and approximately 65 million cubic meters of sand will be required.
Further, it was noted that the public can enjoy a three kilometre-long artificial beach, water sports and 45 hectares of parks, which will be around nine times larger than Galle
Face Green.
CHEC Port City Colombo (Pvt.) Ltd, a wholly-owned subsidiary of China Harbour Engineering Company (CHEC), is the developer set up to undertake all master planning, land reclamation and infrastructure works for the project.
CHEC is a part of China Communication Construction Company Limited (CCCC).