---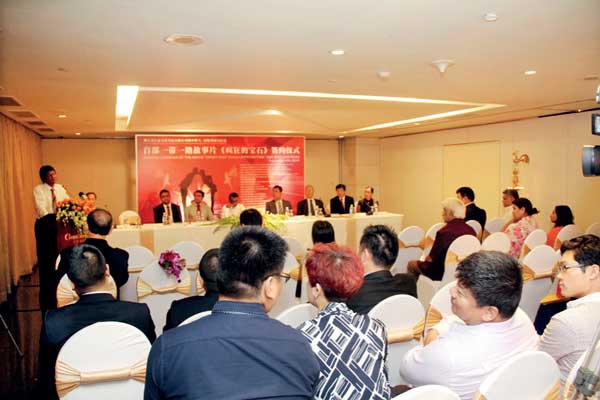 The opening ceremony for the production of the joint movie by two movie giants in China and Malaysia was held last week under the patronage of Parliamentary Reforms and Mass Media Deputy Minister Karunarathne Paranawithana.

The producers of 'Crazy Gems' – representing Zhejing Changlin Cultural Development Company - Zhang Yiling (China) and Ow Chun Wei (Malaysia) explained the plans for the production where they would shoot the film in Nuwara Eliya, Ratnapura, Kandy and Galle.

The storyline revolves around an adventurous woman taking a trip to Sri Lanka and finding her fate in the gem city. The occasion was also graced by National Gem and Jewellery Authority Chairman and CEO Asanka Welagedara, National Film Corporation of Sri Lankan Board Director Dr. Anil Samaranayake, ASEAN Ambassador and Malaysia Artist Society From Malaysia Chairman Dato Pang Yun Tiam, Changlin Culture Development Share Holder Dr. Huang Rui, Chinese Embassy of Sri Lanka Cultural Attaché Liu Dong, Changlin Culture Development Director Zhang Yiling, Sri Lanka Overseas Chinese Association Secretary Professor Zhao Ding Cheng, veteran movie personality Robin Fernando and local production consultant Channa Fernando.

Paranwithana assured the team the fullest support from the government to make the movie a success and explained how the film will strengthen the ties between Sri Lanka and the two countries.
Former Tourism Authority DG and now National School of Business Management Senor Lecturer Vipula Wanigasekera described the importance of the movie for the tourism industry in Sri Lanka and said, "Sri Lanka could not benefit from movies such as 'Bridge on the River Kwai', 'Water', 'Bombay Velvet', etc., as the storylines had nothing to do with Sri Lanka. 'Crazy Gems' is all about Sri Lanka, which would make the location known to millions of viewers. This movie is filmed at a time Sri Lanka Tourism is looking to tap the high-end tourism from China and Far East after having gained the numbers over the last few years."