---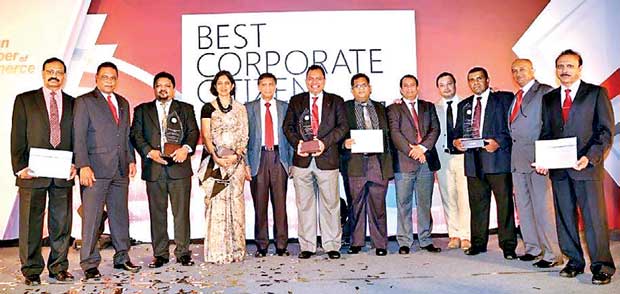 Ceylon Biscuits Limited (CBL) took centre-stage yet again at the 'Best Corporate Citizen Sustainability Awards 2016' held recently.
The company's presence in this ranking makes it the 8th year that CBL has made its mark at these annual awards organised by the Ceylon Chamber of Commerce. CBL won 3 awards at this year's gala annual event that recognizes and rewards companies that demonstrate exceptional corporate stewardship.
The company was awarded for its rank amongst the Top 10 Best Corporate Citizens for the 8th occasion. This ranking bestowed yet another award for CBL's eminence in the manufacturing sector, based on good governance in people and processes. Lastly, CBL was further awarded with the Best Sustainability Projects Award for sustainable local farmer contribution to the Sri Lankan economy as a result of its successful backward integration programme. The company further supports communities through impactful initiatives in the realms of education, arts and culture, sports, communality development and corporate philanthropy.
Sheamalee Wickramasingha, Group Managing Director of Ceylon Biscuits Limited (CBL), stated, "We are proud to be placed amongst the Top 10 Best Corporate Citizens for 2016 for the eighth year in a row. CBL has chosen the pillar of sustainability on which to base our business and this has gone a long way in helping us deliver good governance to all our stakeholders while ensuring that we improve and enhance the standard of living through backward integration that empowers grassroots communities. This initiative has helped uplift farmers' livelihoods and improved the production of indigenous raw materials. We remain committed to expanding our farmer out grower network across the island. This passion to make a difference in upheld by our employees, who are engaged through career advancement, learning and development opportunities by the company, which is furthering our corporate goals to imbue our entire value chain with sustainable business practices."
Apart from its business acumen in manufacturing and marketing quality biscuits, chocolates and cakes, CBL has ventured into agriculture via three of its fully-owned subsidiaries through which it integrates with 10,000 plus Sri Lankan farmers in a business model that source ingredients to manufacture high quality products like 'Samaposha Cereal' and 'Kome Rice Crackers' for the local market and some ingredients which finds its way to affluent developed markets like America and Europe. CBL is playing a vital role in educating local farmers to cultivate local crops to international standards to supply CBL's powerful brand portfolio. CBL has further embraced sustainable business practices to support future of farmers by supporting the production of indigenous foods such as bee honey, grain-based cereals, dehydrated fruits, peanuts, rice and coconut products, palm based treacle and herbal porridge. By strengthening the production process, CBL is helping Sri Lanka become more self-sufficient and enhancing food security for the nation. Armed with this exclusive agriculture education and engagement, the farming community of Sri Lanka has acquired the knowledge and skill to face global market requirements which makes CBL's Backward Integration Programme sustainable to the core. CBL's backward integration strategy is inculcating an environmental-friendly mindset and helping reduce poverty amongst the agri community whilst also CBL's Munchee Samaga Gamata Sarana, the community development initiative and village re-awakening project involves infrastructure development in the most rural areas. The company identifies simple infrastructure needs and develops them, so that the community and the village as a whole benefits and develops as a result. The project has built libraries, bridges, developing schools, provision of regular water supply systems, etc, to enhance the lives of thousands of villagers.