---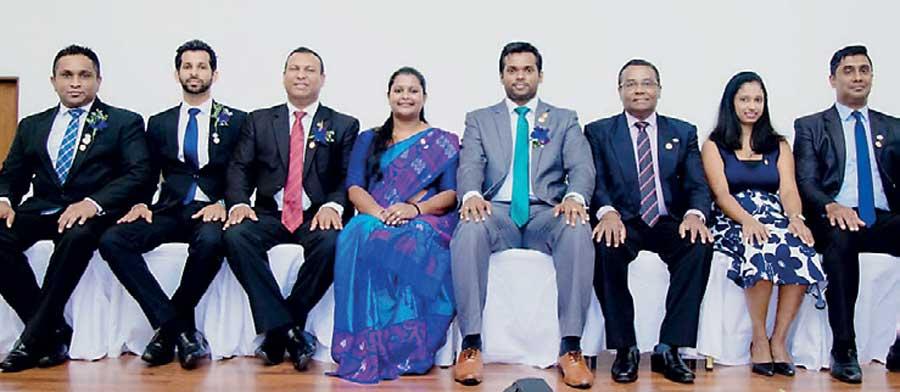 New executive committee of Ceylinco Life's Toastmasters Club (from left) Treasurer Suneth Samarakoon, Vice President Dileepa Delwala, Vice President Deshapriya Vipulatheja, President Shyamala Devi Arulanandam, Immediate Past President Chulaka Kumarasinghe, Vice President Education Kamal Rupasiri, Secretary Keshani Samarakoon and Sergeant-at-Arms Nalin Dhanushka
Ceylinco Life hosted the sixth installation ceremony of its Toastmasters Club recently, at which a new executive committee was appointed and new members were welcomed.

Ceylinco Life Chairman R. Renganathan was the chief guest at this ceremony held at the Ceylinco Life auditorium. District and Divisional Level officers of the Toastmasters fraternity were also present.

The new President of the Club is Shyamala Devi Arulanandam, Senior Assistant Manager Customer Relations. The new executive committee also comprises Kamal Rupasiri as Vice President Education, Deshapriya Vipulatheja as Vice President Membership, Dileepa Delwala as Vice President Public Relations, Suneth Samarakoon as Treasurer, Keshani Samarakoon as Secretary and Nalin Dhanushka as Sergeant-at-Arms.

Ceylinco Life Toastmasters Club has 43 members at present and is the home club of the Toastmasters Area A3 Director Chulaka Kumarasinghe, who was also the club's President last year. As a testament to its prowess in communication and leadership, the club has been accorded 'Distinguished' status every year since its inception.

The club has produced Toastmasters who have won at Area level speech contests, an achievement that surpasses that of many other clubs. The club was awarded the prestigious 'Golden Gavel' by Toastmasters International, the highest accolade any Toastmasters Club could win, in 2015, under the presidency of Late Toastmaster Chandana Herath.

Additionally, three Ceylinco Life Toastmasters, Shyamala Arulanandam, the current President of the club, Chulaka Kumarasinghe, the immediate past President of the club and Gayan Lakmal Alwis have won Division Level Speech and Evaluation contests, a commendable feat for a relatively new club.