---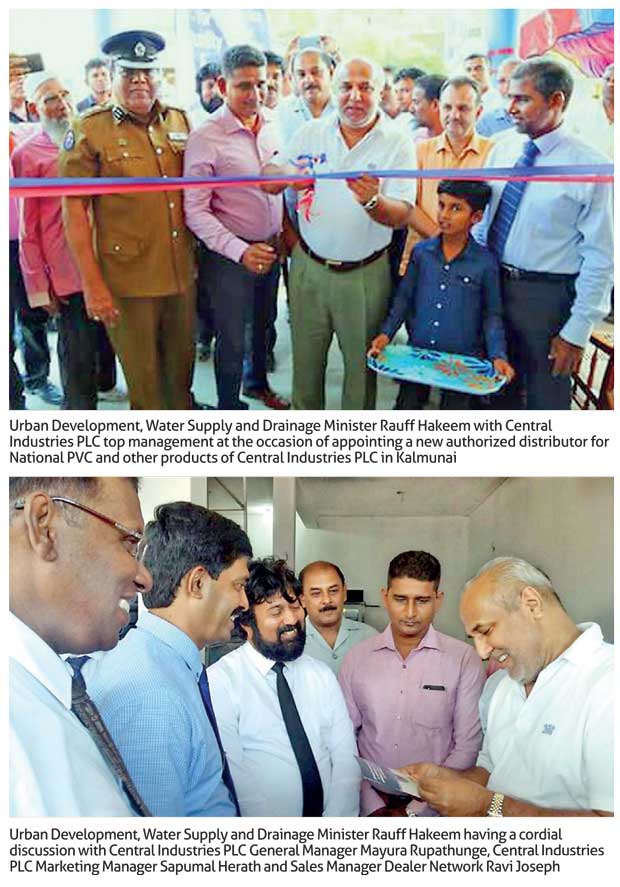 The newest authorized distributor of Central Industries PLC was appointed recently in Kalmunai (United Traders, 121 Ampara Road, Samanthurai) to cater to the business needs in the vicinity.
The new business centre was unveiled by Urban Development, Water Supply and Drainage Minister Rauff Hakeem at a ceremony.
Central Industries PLC is in the process of appointing authorized distributors on an islandwide basis in a bid to enhance the distribution of the company's premier product National PVC water pipe and other products.
The new distributor in Kalmunai will join the bandwagon to cater to the ever increasing demand for the company's products.
The individuals who build houses and construction companies/contractors have kept high confidence on the National PVC product. The newest Central Industries PLC authorized distributor will supply the company's products including National PVC to hardware agents, construction companies, contractors and house builders in the Kalmunai area.
At the unveiling ceremony of the Kalmunai authorized distributor, Central Industries PLC General Manager Mayura Rupathunge said the demand for the company's products has increased in an unparalleled manner over the years.
"Presently many construction projects are being carried out in Kalmunai.
There is a huge base of loyal customers of National PVC in the vicinity. Hence, it is our responsibility to fulfil National PVC water-pipes and accessory requirements of these customers in the vicinity by promptly supplying the product. We have thus appointed an authorized distributor who is a well-known personality in the vicinity. We are in the process of appointing dealers islandwide on a constant basis," said Rupathunga.
He added, "The sole purpose of appointing new distributors is to provide convenience to our loyal and prospective customers who have faith in National PVC and other products of Central Industries."
Amongst all PVC producers in Sri Lanka, Central Industries PLC was the first company to receive SLS 147 and SLS 659 standard certificates for PVC water-pipe production and PVC accessories production, respectively.
The company's other products: solvent cement, gutters, electrical conduits, PE water-pipes, stainless steel water tanks, septic tanks, garden hose, National Compact ball-valves, Krypton brand of electrical switches, sockets and accessories too are in high demand. Central Industries PLC is the sole distributor for Hitachi power tools and accessories in Sri Lanka.