---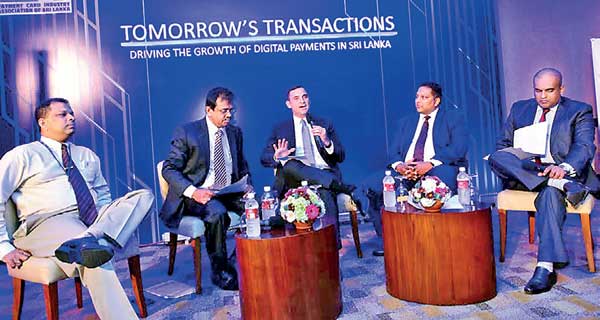 From left: Hatton National Bank PLC Managing Director/CEO Jonathan Alles, CBSL Payments and Settlements Department Director Dharmasiri Kumarathunga, Visa Worldwide Pte Limited Sri Lanka and Maldives Country Manager Anthony Watson, Nations Trust Bank PLC American Express Cards and Consumer Banking Deputy General Manager Priyantha Talwatte and Payment Card Industry Association of Sri Lanka Immediate Past President Roshantha Jayatunge PIC BY INDRARATNA BALASURIYA
The Central Bank of Sri Lanka (CBSL) is pushing for a less-cash society in its 2020 road map, in order to drive down the costs of cash and corruption. "In 2011, our cash in circulation was around Rs.239 billion and in 2015, it was Rs.470 billion. So our 2020 road map is not to get a cashless society but to get a less cash society," CBSL Payments and Settlements Department Director Dharmasiri Kumarathunga said. He said that the CBSL is inviting commercial banks to forward proposals to be included in the policy for the next five years. Speaking at the event themed 'Tomorrow's Tr a n s a c t i o n s Driving the Growth of Digital Payments in Sri Lanka' organised by the Payment Card Industry Association of Sri Lanka, Kumarathunga said that digital payments make up just 4.4 percent of total payments, which should be improved significantly. Visa Worldwide Pte Limited Sri Lanka and Maldives Country Manager Anthony Watson noted that the cost of cash is around 1-3 percent of the gross domestic product.
"So digital payments will stimulate the economy," he said. He noted that even though there are 16 million credit and debit cards in the country, the usage rates are low due to there being only 43,000 payment terminals in the country, with most of them centred on the Western Province. "The number of terminals could quadruple in a short time due to the mobile and Internet penetration," he added, but said that the government should incentivize banks, consumers and merchants to move towards digital payments. Hatton National Bank PLC Man a g i n g D i r e c t o r /CEO Jonathan Alles said that moving to more digital payments would help companies by allowing them to gather better data on their consumers, while also helping the government by creating transparency on income levels, which leads to better tax compliance.
"We need to slowly fi r s t start migrating cash from your counter to your (ATM) machines and from machines into your kiosks and into the Internet and into your mobiles," he said. He added that since the infrastructure is in place, it would even be better to avoid the ATM stage, since that too deals with cash. "I hope you're not bringing in any ATM machines anymore," he advised the bankers attending the event. Alles added that the CBSL should also help to curtail the use of cheques, which is a capital intensive exercise.
However, Kumarathunga noted that the CBSL has some concerns regarding the level of fees levied by payment platforms like Visa when consumers pay digitally, as well as the premium charged by commercial banks when customers draw cash from rival bank ATMs despite being in the LankaPay platform.
He also said that some banks have not yet complied with the Common Electronic Fund Transfer Switch system for digital payments, despite the deadline being September 30.