---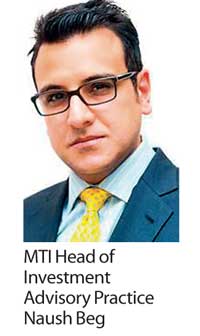 MTI Consulting, as part of an initiative to scale up its corporate finance and investment advisory practice, has announced the appointment of Naushervan "Naush" Beg, a Canadian-Pakistani with formidable international experience in financial services, capital markets, private equity and investment facilitation.

Having worked in North America, the Middle East and South Asia, Naush brings a wealth of international experience to the South Asian (Sri Lankan in particular) and Gulf financial industry.
At the Royal Bank of Canada, Naush served in the capital markets division, handling currency derivatives and precious metals and later joined the Bank of Montreal Financial Group's wealth management affiliate, BMO Nesbitt Burns, as part of its advisory team and full service broker, where he was also responsible for initializing and spearheading initiatives towards the South Asian market.
Naush was later appointed as a Director and Chief Executive Officer by the Arif Habib group's financial services division – one of the largest financial services groups and business houses in Pakistan – to spearhead their management restructuring process for the group's Sri Lankan operations and to look after their interests.

"Sri Lanka is a market I have always loved to work in, not only because it is a great country to live in, but also because of the opportunities I see for the development of Sri Lanka's capital market and MTI's full suite of corporate finance solutions. Sri Lanka, given the ambitious plans of the government and the country's strategic location, is poised to see significant international investments," Naush said.

In addition to his degrees constituting business administration, information technology, banking and finance and Islamic finance from York University, Toronto and the International Islamic University, Kuala Lumpur, he possesses investment and securities certifications from the Canadian Securities Institute and the Bank of Montreal Institute for Learning.
Furthermore, Naush has also worked closely with industry regulators on initiatives such as product development, risk management and investor protection. As a thought leader, Naush has been an expert panellist and speaker at various capital market forums in Sri Lanka and the Maldives.
Commenting on his appointment, MTI Consulting CEO Hilmy Cader said, "We are excited by the prospects of having Naush on board and the international expertise that he can bring to the table in markets like Sri Lanka, where his experience in both developed and developing capital markets will prove invaluable."

Having established a close working relationship with the Pakistani financial services industry, and having gained an in-depth understanding of South Asian capital markets inclusive of Sri Lanka, Naush aims to use his experience and knowledge to enhance MTI Corporate Finance by augmenting services including (but not limited to) transaction advisory, fintech (financial technology)/branchless banking, real estate investment trusts (REITs), asset management and private equity, with a strong focus on areas related to microfinance and micro insurance.