---
Stresses rupee's value should be Rs.185 to a US dollar according to currency macro fundamentals
Says CB's freeze on forward rate agreements enabled currency to gain in value this week
Sri Lankan rupee should be trading at Rs.185 to a US dollar at present according to the prevailing macro-economic fundamentals in the country, and the recent measures to freeze forward rate agreements by the Central Bank has enabled the currency to gain some value this week, according to Ajith Nivard Cabraal, the State Minister for Money & Capital Markets and State Enterprise Reforms.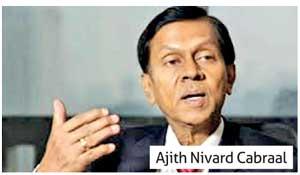 Sri Lankan rupee shed its value mostly since the second week of January due to deferred import payments, slide in export dollar conversions and absence of significant inflows.

Rupee was quoted at Rs.197.00/200.00 to the US dollar at the spot next market last Friday.

However, since the Central Bank suspended forward foreign exchange market for three months since Monday, the rupee gained part of its value lost on Tuesday and Wednesday.

Sri Lankan rupee closed firmer on Wednesday at Rs.192.25/193.00 to a dollar strengthening from Rs.195.50/196.50 to a dollar on Tuesday.

"As a result of the action taken by the Central Bank, we saw the rupee strengthening since. I think the rupee should be at around Rs.185 to a dollar. There is a potential to return to that level and that's where it should be, given the prevailing macro-economic fundamentals," Cabraal said.

He also said there is nothing to panic or worry over the exchange rate and urged exporters to convert their dollar earnings to rupees as and when they are received.

Exporters have been a little reluctant to convert their earnings since of late speculating the rupee to shed its value further against the dollar creating some shortage in the domestic forex market.

Massive levels of excess liquidity in the market have been blamed for the rupee's slide. But that argument holds little water as the there is no significant forex drain on imports created by domestic liquidity due to lower oil bill and lid on non-essential imports.
However, foreign currency loan repayments in the absence of fresh inflows could add pressure on
the rupee.

The private credit is still running at between Rs.30 to Rs.40 billion a month which is not excessive by any measure.

The inflation is well anchored and is projected to remain between 4 percent and 6 percent throughout the year, signaling no signs of overheating of the economy. The overnight liquidity in the money market more than halved to Rs.123.23 billion by Wednesday from Rs.266.52 billion on January 1.

Between 2015 and 2019, Sri Lankan rupee shed 6.7 percent of its value against the dollar. However, despite COVID-19 disruptions to the tourism trade, which generated US$ 4.3 billion in 2019, the rupee depreciated by only 2.6 percent in 2020.