---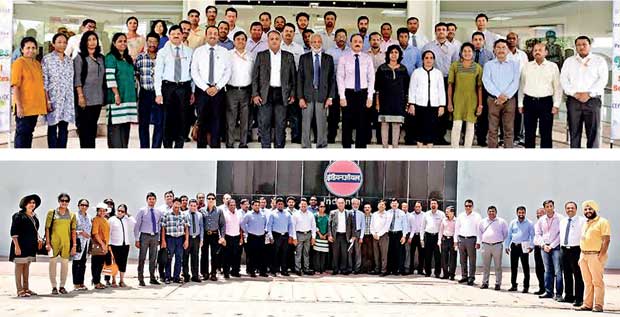 During the recent visit of 1st batch of Sri Lankan Oil Sector delegates to India for SAP training, delegates also visited Indian Oil's Panipat Refinery & Petrochemical Complex (PRPC).
The first batch of delegates comprised of officials from the three oil companies viz Ceylon Petroleum Corporation (CPC), Ceylon Petroleum Storage Terminals Limited (CPSTL) and Lanka IOC PLC (LIOC).
Panipat Refinery is referred to as, one of India's most modern refineries with installed capacity of 15 MMT per annum and it always operates more than its installed capacity.
The Panipat Refinery was built using best of the global technologies and as a result, is capable of processing very high sulphur and heavy crudes thereby generating extremely good gross refining margins to the company.
Panipat Refinery receives crude from a 1370 km long crude pipeline and post refining, supply product to a wide area in the country through pipelines/rail/road network. Panipat refinery also houses state of the art Petrochemical complex that includes PX-PTA units and highly complex Naphtha cracker complex.
A warm welcome was accorded by V.K. Raizada, Executive Director, PRPC. to the delegation headed by A.H.S. Wijesinghe, Additional Secretary (Development), Ministry of Petroleum, GOSL and Anuj Jain, SVP(Finance) LIOC.
Addressing the delegates, Raizada touched upon the rich historical culture of both the countries. He emphasized on working to further enhance and strengthen the cultural and commercial ties between both the countries as both India and Sri Lanka are member nations of several regional and multilateral organizations such as SAARC.
Thereafter, a technical presentation on providing brief insights into various operations of PRPC as well as on Indian Oil as a whole was made to the delegation. He also shared the robust physical and financial performance of PRPC complex to the delegation. All the delegates participated in the presentation session which was followed by a detailed interaction session with the delegates.
After the interaction session, the delegates were took around the Panipat Refinery & Petrochemical Complex and visited the main control room of PNC and CR-11 of PR. Various technicalities and various operations of the installed facilities at PRPC were discussed & explained to the delegates.
Wijesinghe thanked Shyam Bohra MD LIOC, ED PRPC and Indian Oil management for arranging this visit and stated that this visit will definitely strengthen the relationship between CPC, CPSTL, LIOC and IOC. Raizada offered all his assistance to share his experience & expertise in Hydrocarbon sector with the delegates from Sri Lanka in future too.