---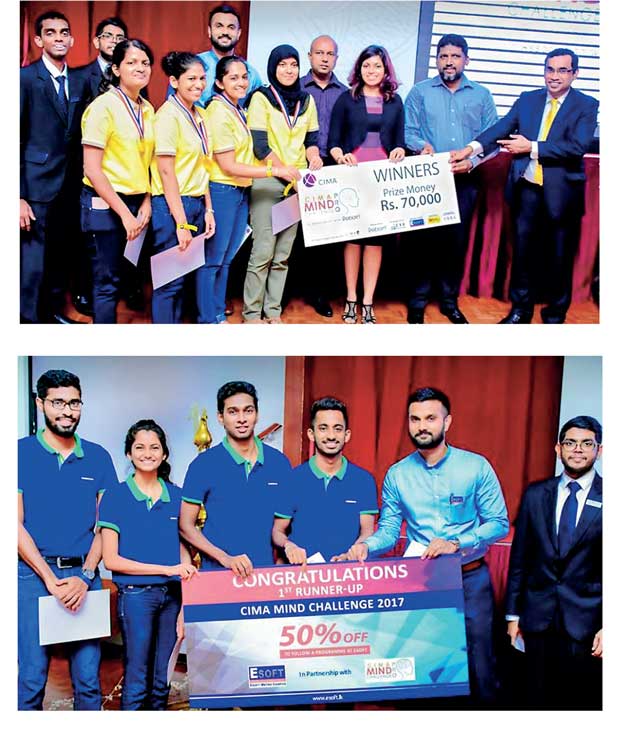 CIMA Mind Challenge Pro 2017, the revamped version of the long-standing quiz competition known as the Mind Challenge, was held successfully recently at the Sri Lanka Foundation premises.
Organised by the CIMA Students' Society (CIMASS), Mind Challenge witnessed a transition from the quiz competition for which it was renowned for, to a business hackathon competition. This conversion was initiated to add more value to the CIMA student fraternity and to stay relevant in a corporate world, which in itself is
undergoing changes.
A case study was released by the Colombo Stock Exchange (CSE), for which the competing teams were required to submit a report. A shortlisting process of selecting four final teams, out of the 30 teams, which applied ensued, was overlooked by the CSE.
The finale of the event witnessed the four shortlisted teams engaging in a three-hour hackathon, which concluded with a presentation made to an adjudicating panel, which comprised of representatives from the CSE. Team Magnet Minds from Achievers bagged the fourth place; a team representing KPMG clinched the third place, securing Tea Avenue vouchers and a scholarship from Esoft Metro Campus. The runner-up was the team from Wisdom Business Academy, who were awarded with a cash prize and scholarship offers from Esoft Metro Campus.
This year's winners of the CIMA Mind Challenge Pro is Team Galactic Girls from the University of Colombo, securing a cash prize and four fully sponsored scholarships from Esoft Metro Campus as well as a CIMA subscription waiver for the
next year.
Reborn stepped up to be the Platinum partner for Mind Challenge Pro 2017, thereby making it the third consecutive year for which Reborn has partnered with this event.The Colombo Stock Exchange supported this year's event as the Knowledge partner, Esoft Metro Campus as the official Education partner, Sun FM as the official Radio partner, Vevra as the Photography/Videography partner and Tea Avenue as the Gift Bundle contributor.