---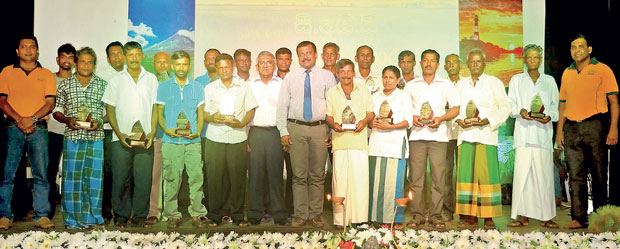 Twenty long standing farmers were honoured by CIC Seeds (Pvt.) Ltd. during a felicitation ceremony held at Shalika Hall, Dehiattakandiya recently.
The ceremony was held with the participation of over 150 farmers who supply seed to CIC representing Mahaweli System-B & C and Hingurakgoda areas.
Felicitation Awards and prizes were awarded to 20 loyal and long standing farmers at this ceremony, which was organized under the CSR initiative - CIC Manussakama program. These farmers were felicitated for their longstanding contribution to CIC Seeds, by supplying high quality seed paddy and vegetable seeds since 1998. Additional GA/ Resident Project Manager of Mahaweli System-C Wimal Kumara graced this occasion as the Chief Guest, while the Executive Director/CEO of CIC seeds, Waruna Madawanarachchi was among the guests.
Expressing his views at the conclusion of the ceremony, out grower J.K.J.G. Ranbanda said, "I have been supplying seed paddy to CIC Seeds since year 2000. Previously my income was very low as I was collecting a low harvest. But thanks to the guidance given to me by CIC, I have been able to grow my harvest significantly over time. CIC also purchase our seed paddy on buy back agreement with a higher price than the open market which has helped me to earn a better income. Today I've become a successful farmer because of the constant support and guidance received from CIC."
Elaborating his views further, Ranbanda expressed his heartfelt gratitude to CIC Seeds company, and stated that this day will be remembered as one of the most significant and memorable days in his life.
Launched in 1992, CIC Seeds has grown to become the leading seed supplier in Sri Lanka today. The company produce seeds in its own farms in Hingurakgoda, Pelwehera and Thalawa, in addition a significant stock of seeds is annually produced through the farmers registered as out growers.
The crops are grown under strict supervision, while the seeds are processed systematically using the state of art machinery, to ensure optimal quality.