---
The Central Bank left its key policy rates steady for the 3rd consecutive month in June due to the signs of moderating monetary conditions and expectations of easing price levels during the medium term, but raised concerns over the heavy borrowings made by State-owned- Enterprises (SoEs) due to their deteriorating finances.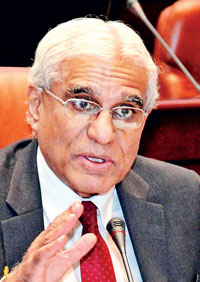 The widely expected monetary policy decision yesterday left the Standing Lending Facility Rate (SLFR), the rate at which the money was injected in to the banking system at 8.75 percent and the Standing Deposit Facility Rate at
7.25 percent.
The banks' statutory reserve ratio was also kept at 7.50 percent.
Sri Lanka's monetary policy has been moving towards a flexible inflation targeting framework which targets a medium term inflation forecast which facilitates forward-looking monetary policy decision making and a higher degree of transparency and accountability.
Central Bank targets an inflation of 6.0 percent by the end of 2017 which is expected to further ease towards 5.5 percent during the first quarter of 2018. The headline inflation in May according to the national consumer price index eased to 7.1 percent from 8.4 percent but is likely to come under pressure from the supply disruptions from the recent foods.
"As the impact of the revisions to the tax structure and weather-related supply disruptions is expected to dissipate in the period ahead, inflation is projected to moderate to mid-single digits by the end of 2017, and stabilize thereafter", the monetary policy statement said.
Inflation targeting framework is a clear shift away from the monetary policy being used as a form of creating 'sugar-highs' in the economy which are not sustainable.
Meanwhile the private sector credit has come off in April from a month earlier quite strongly, but the Monetary Board appears to have been concerned about the strong rebound in credit obtained by the key public
sector enterprises.
"The growth of credit to the private sector continued to decelerate gradually. A further deceleration in the growth of credit to the private sector is anticipated, given the prevailing high nominal and real lending rates in the market. The recent expansion in credit obtained by state owned business enterprises (SOBEs) poses a risk to the behaviour of overall domestic credit, reflecting the need to address concerns in relation to the financial performances of key SOBEs", the Monetary Board said.
The net SoBE borrowings during the first four months of 2017 have been Rs.62 billion compared to a contraction of Rs.28 billion during the whole of 2016.