---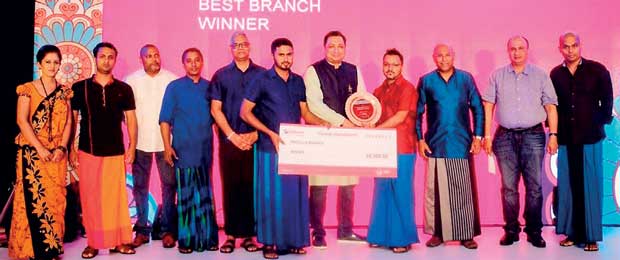 A ceremony in celebration of AIA's and NDB's top Bancassurance performers was recently held at the Cinnamon Lakeside Colombo.
The ceremony, was of great significance as it attested to the successful long-term relationship enjoyed between the two companies.
The event recognized those that had excelled in the year 2016 from both AIA's Bancassurance team and bank branch team, for their immense dedication in developing the Bancassurance channel.
The award for 'Top Bank Referrer 2016' was claimed by Ajantha Perera from the NDB Kadawatha branch. The award for 'Best Bank Regional Manager for the year 2016' went to Sydney Downall of Region 01.
The 'top Branch' award went to Badulla branch which was recognised as the 'Best Branch' for 2016, with the Kotahena branch being named first runner up, the Old Moor Street branch being named second runner up and the Chavakachcheri branch winning the award for 'New Entrant.'
Uthayakanth Vettivel walked away with the title of 'Best Cluster Head for the year 2016' while Amal Sampath won the award for 'Highest Value' Cluster Head for the year 2016'. Ajitha Kurukulasuriya was the winner of 'Best AIA Bancassurance Executive of 2016' while Champika Rathnayaka and Deemal Kaluarachchi won first runner up and second runner up respectively.
Notably, AIA has 29 Million Dollar Round Table members (MDRT) from its Bancassurance channel, out of which eighteen of them are attached to the NDB bank operation. These MDRT members were also recognized at the awards ceremony, for their outstanding achievement. MDRT membership is internationally recognized as the highest standard of excellence in the world that a life insurance sales person can achieve.
"We are extremely proud of the achievements of our Bancassurance team who have worked tirelessly to ensure that the partnership between AIA and NDB is stronger than it has ever been. It is this dedication that allows our customers to enjoy the excellent service standards that are expected of a leading insurer such as AIA," said AIA CEO Pankaj Banerjee.
NDB CEO Dimantha Senevirathne also congratulated the top achievers saying, "Everyone involved in the AIA and NDB Bancassurance channel have worked tirelessly to take the partnership to greater heights. It's been a long and fruitful partnership between AIA and NDB and I am confident that together we will be able to offer our customers the best products and service, for years to come."