---
Huge opportunity for SMEs to get into business-to-consumer (B2C) space in the BRI
H'tota port with industrial zones to allow local SMEs to push their products to the world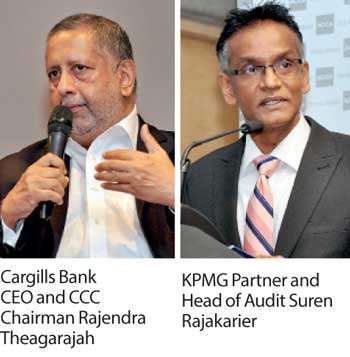 By Shabiya Ali Ahlam
As fears continue to grow concerning China's role in Sri Lanka's development agenda, an industry influencer yesterday pointed out that the mega Belt and Road Initiative (BRI) paves the way for local small and medium enterprise (SME) sector to boom, provided the project potential is realized.

Urging better integration into what can be called the development initiative of the century, Cargills Bank Managing Director/Chief Executive Officer and Ceylon Chamber of Commerce (CCC) Chairman Rajendra Theagarajah said he sees "huge opportunity" for Sri Lankan SMEs to plug into the initiative and reap benefits.
"From a Sri Lankan perspective, there is not yet an understanding about a huge opportunity for SMEs to get into the business-to-consumer (B2C) space in the BRI. For this there needs to be a mindset change and this is not going to happen overnight," said Theagarajah, while addressing an event hosted by ACCA Sri Lanka and KPMG in Colombo.

He elaborated that the Hambantota port, with the new industrial zones coming in, allows local SMEs to push their products to the world as they can hop onboard the two biggest players in the Asian e-commerce space—Alibaba.com and JD.com.
Admitting that China, BRI and e-commerce should be viewed collectively, he stressed that efforts should be made in getting the e-commerce giants to set up operations in Hambantota, which would make the plug in less challenging. Meanwhile, KPMG Partner and Head of Audit Suren Rajakarier opined it is time for both the government and the private sector to "leverage the leveraging". According to him, if the Hambantota port is used to its full potential, its GDP would be higher than that of Colombo.

"That is an option for all companies, whether to leverage the investments from the BRI or complain."

China's BRI is considered the largest project of the century where it is moving ahead in full steam to build a network of railroads and shipping lanes which would link itself to 70 countries across Asia, Africa, Europe, and Oceania.

The main focus areas of BRI are infrastructure, transportation, and energy.