---
By Zahara Zuhair
Sri Lanka's Board of Investment (BOI) Chairman Upul Jayasuriya has requested Sri Lankan entrepreneurs to be sharp and find the right foreign partners to go to the next level, as there are numerous possibilities in the offing.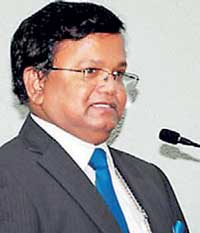 "This is the time for Sri Lankan entrepreneurs to look sharp and find the right foreign partners. Specially in Europe, some of the small and medium sized enterprises (SMEs) are finding it difficult to survive due to high costs. Some of these companies are now looking at third world countries," he said.
However, he said when investors look at options, Sri Lanka comes last in their priority list. So he asked the country's trade chambers to take up this challenge and take the Sri Lankan businesses to the next level.
"With globalization, there are so many ways of making links with the outside world. The other day, one of the Swiss electrical companies had to close down their company. They looked at the options and finally decided to come to Sri Lanka. With the help of BOI, they started their operations here within three months. It's another success story," Jayasuriya told the Annual General Meeting (AGM) of Colombo Chamber of Commerce—a chamber that promotes SMEs—held last week.
"So if you keep in touch with BOI, we can help you to take your message forward, to help your membership and those who require assistance and guidance, promote their businesses and market itself," he said.
As SMEs are the backbone of economies of many countries including the USA and India, Jayasuriya stressed the Sri Lankan government too will have to focus on promoting SMEs better than what it is doing at the moment.
However, he said Sri Lankan SMEs are facing issues pertaining to the access to state-of-the art technology due lack of know-how and high investment costs.
"Most SMEs have limited access to larger markets in terms of market linkages, transport, telecommunications, and information exchange which seriously undermine the demand of their products," he noted.
About 80 percent of Sri Lankan businesses are SMEs and they account for 50 percent of the country's Gross Domestic Product, 35 percent of total employment and 30 percent of value added manufacturing output. Taking Maliban Biscuits as an example, he told the gathering how it became a successful business, starting small, to become a world-renowned brand.
"The Maliban owner was a labourer in Maliban hotel in Borella, and then gradually moved up and he bought the hotel, he started making biscuits in the same hotel, and then moved on to building of his own, and now exports to entire South East Asian region," he said.
Meanwhile, Jayasuriya said BOI has taken steps to setup an incubator, which will be done as a public private partnership (PPP) to help the struggling but promising SMEs. The initial investment for this is about Rs. 100 million.