---
By Chandeepa Wettasinghe
The Sri Lankan government must continue with the recently started reform process over a long period, while notching up small wins, in order to generate meaningful gains for businesses and individuals, much like cricket, the Australian High Commissioner in Sri Lanka said.
"We've found that the best path to economic reforms is part test match, part T20. It's a long game that needs to keep the scoreboard ticking and occasionally, when you have the opportunity, to hit a six," Australian High Commissioner in Sri Lanka Tim Huggings said.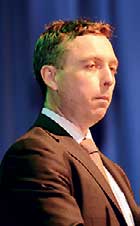 Speaking at the launch of 'The Roadmap to Improve the Investment Climate in Sri Lanka', this week, he said Australia has been batting through a long innings of reforms and economic growth based on transparency, which helped the economy become more competitive, flexible innovative and resilient.
Sri Lanka has lost wickets in droves, since the country has regressed after achieving widespread liberalization starting in 1977. Protectionist lobby groups have helped make Sri Lanka a more inward-oriented economy than four decades ago.
Each election and cabinet appointment cycle also results in the government calling for changes of gloves and bats, lunch breaks and third umpire reviews, with the fall in concentration eventually leading to wickets.
"We all know that economic reform is difficult because every citizen has a stake in the well-being of the economy. Business people, farmers, teachers, bureaucrats, chefs and street sweepers, each person is affected by economic change in slightly different ways and they all vote. Were it not for politics, reforms would be an easy task," Huggings said.
He said that the reform process works as incremental radicalism, with each reform making a small difference, but collectively over time creating positive changes in the economy.
"Australia has been on a reform journey for about three decades and it has been by no means a linear path and in no means easy, but the data suggest that the three- decade reform path has been working," he said.
While noting that no reform journey is the same for each country, the reform agenda, which was presented this week, incorporates some of the best practices from Australia. The World Bank too helped Sri Lanka to formulate the reform process.