---
AFP: Asian traders headed into the weekend cautiously upbeat yesterday following a broadly positive week across global equity markets after Federal Reserve chief Janet Yellen indicated a softer approach to raising US interest rates.
The Dow on Wall Street posted a second-successive record as investors cheered the more dovish tone from the central bank, which has been moving to tighten monetary policy as the world's top economy continues to pick up.
The positive lead provided fresh support to Asia, though the gains were tempered by profit-taking.
Tokyo ended 0.1 percent higher, Sydney added 0.5 percent and Singapore was 0.8 percent up while Seoul put on 0.2 percent.
Hong Kong, which is at its highest level since mid-2015 following a four-day rally, closed 0.2 percent higher, while Shanghai ended up 0.1 percent.
Second-quarter earnings are also in focus with US banking giants JP MorganChase and Wells Fargo due out later in the day, while Netflix and Johnson & Johnson are among those up next week.
"The US profit reporting season looks likely to be a key market driver over the next couple of weeks," said CMC Markets chief markets analyst Ric Spooner in a commentary.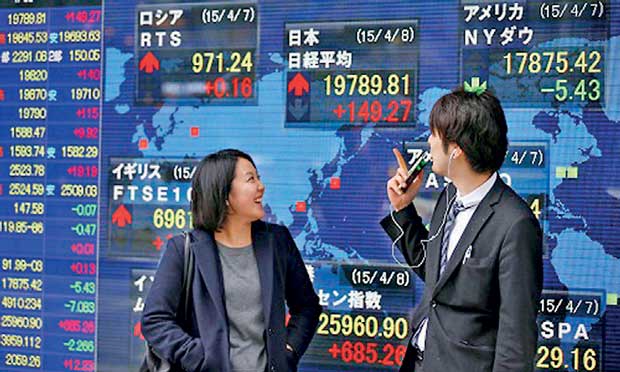 The positive lead provided fresh support to Asia, though the gains were tempered by profit-taking
"Another good season will be very supportive for stock markets and continue the current bias against being too trigger happy in response to potential risk events. However, full valuations mean there's not a lot of margin for error. Stocks that underperform are likely to be dealt with harshly."
On foreign exchanges the dollar struggled to maintain Thursday's gains after the previous day's sharp losses fuelled by Yellen's statement.
Yellen on Wednesday said the US Central Bank would keep raising the benchmark lending rate gradually as long as the world's top economy continued to grow as expected, taking into account inflation remained below its two percent target. But on Thursday she stressed policy decisions could change as new data come in.
Eyes will be on the release of June consumer inflation, which has taken on more significance in light of Yellen's remarks, although forecasts suggest it will remain below the Fed's two percent target.
Analysts warned the greenback faced pressure over the long term as global central banks begin to wind in their financial crisis-era stimulus and come into line with the Fed.
Most in view is the European Central Bank, which is mulling tightening measures as the long-troubled eurozone stirs back to life.
"At the moment, there is still a large divergence between the eurozone and the US," according to Milan Cutkovic, market analyst at AxiTrader. "However, the economy of the eurozone has picked up a lot in the last 12 months, while economic growth in the States has slowed down."
He said the single currency -- which is at 14-month highs -- could test US$1.16, adding: "The outlook for the greenback is turning increasingly negative."
In early European trade London and Paris each rose 0.1 percent while Frankfurt was flat.