---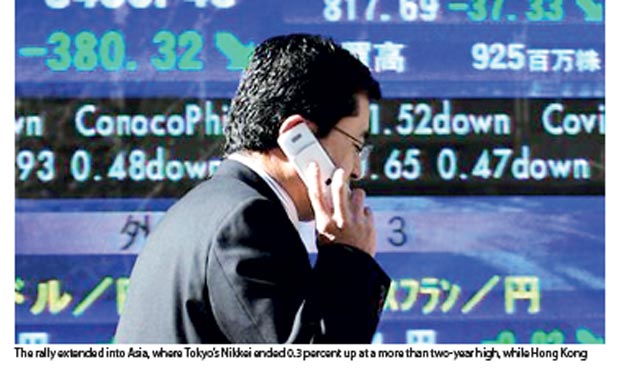 AFP : Asian markets rallied yesterday with Hong Kong hitting a 10-year high after another record close on Wall Street following more buoyant US data and hopes for tax reform, which has also boosted the dollar.
As the US Labour Department prepares to unveil job creation figures for September, traders were given a positive bump Thursday with figures showing improving factory orders, jobless claims and exports.
The news came as US lawmakers passed an outline budget plan, providing some optimism that Donald Trump's key economic pledge to cut taxes could come to fruition.
Analysts said the figures could indicate strong growth for the US economy in the third quarter.
All three main indexes in New York closed at all-time highs, with the S&P 500 notching a sixth-straight record -- the longest streak since 1997.
And the rally extended into Asia, where Tokyo's Nikkei ended 0.3 percent up at a more than two-year high, while Hong Kong added 0.3 percent to finish at its highest level since the end of 2007.
Sydney put on one percent and Singapore climbed 0.5 percent, with Manila 0.5 percent higher.
The move into riskier assets has also hit safe-haven gold, which has fallen more than six percent from the one-year high hit a month ago.
Comments from International Monetary Fund head Christine Lagarde that "the long-awaited global recovery is taking root" provided for further optimism.
In early European trade London rose 0.2 percent and Frankfurt gained 0.1 percent but Paris slipped 0.1 percent.
The dollar extended Thursday's gains as dealers contemplated Trump's tax cuts passing through Congress and remarks from top Federal Reserve officials indicating another interest rate hike before the end of the year, with the possibility of more in 2018.
"Inter-party (Republican) squabbling has subsided as the US House has taken essential steps setting the stage to roll out a determined tax-overhaul bill which should pass without Democratic backing," said Stephen Innes, head of Asia-Pacific trading at OANDA.
The greenback was also given some help against the euro by Spain's ongoing crisis with Catalonia threatening to break away, which has seen the single currency sink to around US$1.17 - having topped US$1.20 just two weeks ago.
The pound came back under pressure as the future of Prime Minister Theresa May, whose much-anticipated Conservative Party conference speech this week ended in disaster, is called into question.
There are worries that her removal could spark fresh uncertainty in Britain as it negotiates with the EU over leaving the bloc.