---
Mostly from European Union and USA
But drastically lower than pre-COVID levels
By Shabiya Ali Ahlam
Sri Lanka's apparel industry, which faced a major setback due to the global health crisis, is finally beginning to witness progresses, with buyer interest showing signs of improvement.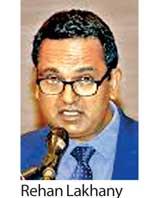 Sri Lanka Apparel Exporters Association President Rehan Lakhany shared with Mirror Business that the sector has started to receive orders, mostly from the Europe Union (EU). However, an increase in orders is also seen from the USA.

Although the order levels are beginning to move towards a positive trajectory, it is still drastically less, compared to the levels of the corresponding period, the previous year.
"These are improvements compared to what we were faced within the last few months, the lull period.
It must be stressed that it is nowhere close to what it was in the pre-COVID times.

Nonetheless, it is an improvement and we, the industry, are optimistic that the situation will get better in the coming months," Lakhany said while providing a status update of the apparel sector.

He shared that while currently the revival is snail-paced, due to the pandemic continuing to cripple economies of Sri Lanka's key markets, the industry expects the current situation to improve steadily from January 2021.

Furthermore, Lakhany shared that a silver lining that has emerged from the global health crisis is that the buyers are looking to move away from China as their key source. Reason being, the global apparel sector came to a standstill during the peak of the pandemic, with China closing its manufacturing plants and borders, halting the movement of products out of the country. The unavoidable move by China led to the derailment of supply chains across the world.

"An increasing number of buyers are looking at reducing their dependency on the manufacturing giant. Sri Lanka could reap the benefits of this shift for sure. It is still a wait and watch scenario but even though slow, we are seeing the situation get better," Lakhany said.

Sri Lanka's apparel sector expects to end 2020 with 30 percent less exports than what was posted in 2019.

The industry earned a record US $ 5.3 billion from its apparel exports in 2019, showing a 5.1 percent year-on-year increase.