---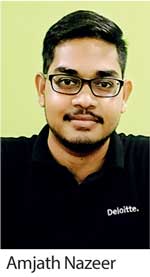 Amjath Nazeer Abdul Careem completed all the examinations as well as the case study of the Institute of Chartered Accountants of Sri Lanka (CA Sri Lanka) prior to his twentieth birthday.

This is an all-time record for the ICASL and according to the regulations he has to wait until he is 21 years old to be admitted as a members of the Institute.

Amjath had his early education at Amal International School and thereafter proceeded to Saudi Arabia with his family and studied at the Indian International School for two years. On his return he joined the Royal Institute and after his London O/Level examination he completed the exams of the Association of Accounting Technicians of Sri Lanka (AAT) within a year.

He then proceeded with the CA examinations and joined SJMS Associates (which is an affiliate member of Deloitte) in May 2014 for his practical training as prescribed by the ICASL.

Amjath states that all credit goes to God as he was fortunate to have such good parents who guided him to achieve this unique success. He further said that his father guided him and gave him direction which helped him to focus on his studies, and that helped him to complete the CA exams at this young age.

Amjath said that one should have confidence in one's self to achieve the goals set. He further articulated that his supervising partner and the managers he worked under helped him, and guided him through the early years of his training.

Amjath confidently says that he studied regularly and hence was able to achieve his goal of being the youngest to complete the ICASL exams. His goal is to be a Finance Director like his father who is his role model.

Amjath's maternal grandfather T.S. Samath was a legendary auditor at Ford, Rhodes, Thornton and Company (now KPMG) under whom many of the present CA's of the 1960's and 1970's have learnt their basics in auditing. His maternal uncle Tony Samath was also an Alumnus of Someswaran Jayewickreme and Co., (presently known as SJMS Associates) and worked both in Colombo and Male, in the Republic of Maldives for many years.

Amjath is indeed an inspiration and role model for aspiring young accountants, and has proved that hard work and dedication will ensure success at a young age.