---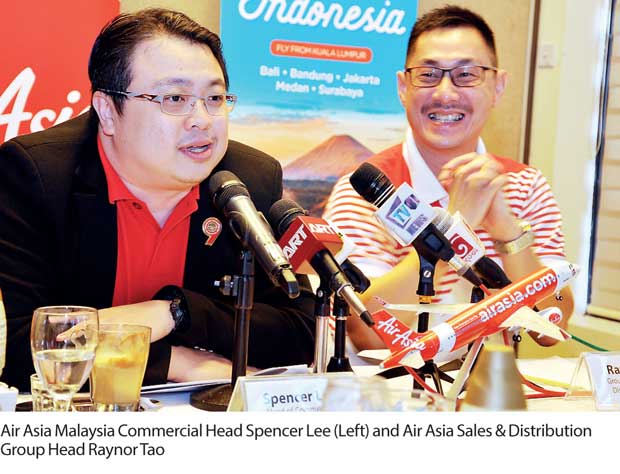 By Chandeepa Wettasinghe
Air Asia, the Malaysian low-cost carrier, is expecting greater tourist arrivals to Sri Lanka through its flights this year based on flight reservations so far, and is forging ahead with increasing the airline's presence in the island.

"The story so far is very healthy inbound tourists this year compared to last year via Air Asia," said Air Asia Malaysia Commercial Head Spencer Lee at a media briefing yesterday.

Overall, Sri Lanka has experience a slowdown in its tourism arrivals in 2017 with a growth of 3.2 percent compared to 2016 with 2.1 million
tourist arrivals.

Lee said that Air Asia is bullish about Sri Lanka's tourism industry and wants to contribute towards its success especially by connecting tourists from China, and as a part of this plan, wants to set up a local commercial team this year to partner with local tourism stakeholders.

This is a part of Air Asia's strategy to provide a better experience both in flight and out of flight with peripheral services on demand, Lee said.
When questioned on Air Asia possibly expanding its frequency and routes to and from Sri Lanka in the face of the airport currently operating beyond its designed capacity, he said that Air Asia is so far satisfied with its flight operations in Sri Lanka.

"At this moment, we're happy with what we have. To expand further we would have discussions with the authorities," he said.

Lee however refused to comment on the recent news reports that Air Asia is looking to set up a low-cost carrier and a US$ 100 million budget terminal based in Colombo, for which the Cabinet Committee on Economic Management has already given its approval.

"I'm not in a position to comment on anything beyond our current operations, " he said.

However he also said that Air Asia will be looking to expand its operations whenever an opportunity presents itself.

He said that Air Asia remains committed to delivering low fares, a wide network and award winning service, and that the airline will this year be flying its one millionth passenger in its operations in Sri Lanka just nine years after entering the market.