---
Diversified conglomerate, Sunshine Holdings PLC, boosted its net profit by 60 percent year-on-year (YoY) to reach Rs.125.56 million for the quarter ended March 31, 2017, (4Q17), although the 2017 financial year (FY17) ended with a loss for the group despite a strong performance by its agriculture operations.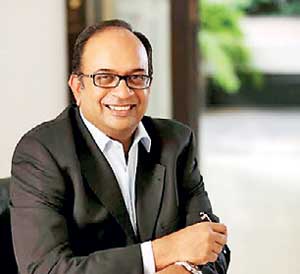 Earnings per share for 4Q17 increased to 93 cents from 58 cents YoY, while Sunshine Holdings share, which opened at Rs.59 yesterday morning, closed at Rs.63.50, after reaching a high of Rs.64.90.
Sunshine Holdings' revenue for 4Q17 increased 11 percent YoY to Rs.5.11 billion, while cost of sales increased 8 percent YoY to Rs.4.02 billion. Administrative expenses increased 28 percent YoY to Rs.537.57 million.
The group's net asset value per share increased to Rs.46.25 at the end of FY17, compared to Rs.42.78 at the start of the year.
The total asset base of Sunshine Holdings increased to Rs.17.93 billion from Rs.16.12 billion, which was balanced through a significant increase in equity from non-controlling interests.
Meanwhile, the net profit for FY17 fell 2 percent YoY to Rs.572.26 million. Profit after tax, which increased 33 percent YoY to Rs.1.62 billion, was absorbed by non-controlling interests.
Revenue for FY17 increased 10 percent YoY to Rs.19.22 billion, while the cost of sales increased 8 percent YoY to Rs.14.39 billion. Administrative expenses increased 18 percent YoY to Rs.1.94 billion.
Healthcare operations, which contributed 41 percent to group revenue with Rs.7.86 billion, a 10 percent increase YoY, managed only to contribute 12 percent to group PAT with Rs.197.91 million, down 39.55 percent YoY.
Sunshine Holdings Group Managing Director Vish Govindasamy said price controls on 48 drugs, which were introduced last October, caused the greatest impact on the healthcare sector profitability causing, the modest growth in revenue. A decline was observed in healthcare operating profits.
A Colombo-based equity brokerage said Sunshine Holdings may look for margin expansions in healthcare by shifting the focus towards high margin beauty and wellness profits.
Meanwhile, the group's agriculture segment, which shed its rubber operations earlier this year, contributed 34 percent towards revenue with sales of Rs.6.50 billion, a 3.22 percent increase YoY.
Agriculture brought in 75.6 percent of Sunshine Holdings' profit after tax (PAT) with Rs. 1.23 billion, doubling PAT from a year earlier.
Although the group's fast-moving consumer goods revenue increased 22.46 percent YoY to Rs. 4.21 billion, PAT fell 34.92 percent YoY to Rs. 275.31 million due to increases in prices of tea at the Colombo auction, which pushed up input costs.
Lamurep Investments Limited, an investment vehicle of Sunshine Holdings Chairman G. Sathasivam, owned 32.12 percent of shares in the company, according to the interim statements, although Lamurep in late March announced the close of its voluntary offer, following which it owned 49.34 percent of shares of the company.
Govindasamy said that the new shareholding positions aren't shown since the Securities and Exchange Commission approved the share trades under the voluntary offer in April.
Foreign investment banks, Deepcar Limited and Moneymore Securities Limited owned 18.94 percent and 16.88 percent of Sunshine Holdings shares, respectively, while high net worth investor Dr. T. Senthilverl held 11.47 percent and SBI Ven Holdings Pte Limited held 10.99 percent.
---
Amal Cabraal joins Sunshine Holdings board
Sunshine Holdings PLC announced the appointment of Amal Cabraal as an independent non-executive director with effect from May 31, 2017.
With the new appointment; the board of Sunshine Holdings will now comprise of 10 directors of which 06 will be non-executive independent directors.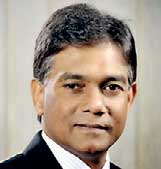 A former Chairman and Chief Executive Officer of Unilever Sri Lanka, Amal Cabraal possesses over three decades of business experience in general management, marketing and sales. In addition to his work in Sri Lanka, he has also served with Unilever in the United Kingdom, India and Bangladesh.
"It is my great pleasure to announce the appointment of Amal Cabraal to the board of directors of Sunshine Holdings PLC. Amal is an individual who has developed an exceptional track record over the past three decades, leading growth across many different industry verticals.
"Our new business developments will greatly benefit by his wide exposure to best global business practices and we eagerly look forward to working together to unfold a new chapter of growth," said Sunshing Holdings Group Managing Director, Vish Govindasamy.
An alumnus of INSEAD-France, Cabraal holds an MBA from the University of Colombo. Amal is a Chartered Marketer by profession and a Fellow of the Chartered Institute of Marketing – UK.
He serves on the Monetary Policy Consultative Committee of the Central Bank of Sri Lanka and is a member of the Management Committee of the Mercantile Services Provident Society.
He is an independent non-executive Director of Hatton National Bank and an external independent Director of John Keells Holdings PLC, Ceylon Beverage Holdings PLC, and Lion Brewery (Ceylon) PLC. He also serves on the Supervisory Board of Associated Motorways Ltd. The Board of Directors of Sunshine Holdings PLC comprises Munir Shaikh, G. Sathasivam, Vish Govindasamy, N.B. Weerasekara, B. A. Hulangamuwa, S. G. Sathasivam, H. D. Abeywickrama, A. Talwatte and R. Kobbekaduwa, A.Cabraal.