---
By Zahara Zuhair
As the government intends to invest US $ 11.5 billion over the next 20 years for public transport, including the roads, Moratuwa University Civil Engineering Department Senior Lecturer Dr. Dimantha De Silva shed light on the transport proposals to be implemented under the Western Region
Megapolis Project.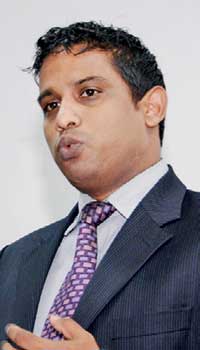 The proposals include having a modernized bus service, an electrified rail system, a modern rapid transit system (RTS) and inland water and multimode facilities. He said that the proposed light railway transit (LRT) would have about 75 kilometres for the whole network and out of that, 63 kilometres will be elevated and 12 kilometres will be on ground.
Talking about the current status of this project, he said the feasibility study will soon be started with the assistance of the Japan International Corporation Agency (JICA), which is to be completed by December 2017. Meanwhile, he said the reason to select LRT over a monorail system, which was proposed earlier and abandoned later on, was its reduced costs, higher success rate and the monorail system's inability to expand as a network with crossings and its switching issues. He made these revelations delivering L. S. De Silva Memorial Lecture 2016, under the theme, 'A Rail-Centric Public Transport Solution for Megapolis', organised by the Chartered Institute of Logistics and Transport (CILT), recently.
He said that under the proposed inland water transport project, the government expects to provide comfortable safe commuter service and in the meantime, promote eco-tourism in non-peak times. He said that the project will be put on to both local and foreign investors soon. The proposed water transport project will operated along Wellwatte-Battaramullla, Colombo Fort-Union Place and Mattakkuliya-Hanwella. To have a modernised bus service he proposed that there should be better door-to-door service, easy access and comfortability and incorporation of the existing operators and providers. He said that measures such as revising bus routes, rescheduling buses, modernising all bus stops and terminals are also critical. While talking about the railway electrification and modernisation of 196 kilometres of existing rail lines and 52 Kilometres of new lines, he said that stations should be upgraded with better communication, signals, tracks and operations. "We need a controlled platform where people can get in and get off in certain locations. We have to have modern ticketing, timing; all have to be integrated," he said. He also said the main problems prevailing in Sri Lanka's rail system at present are lack of rolling stock to cater to peak demand, long stops at stations, inability to active maximum speed and outdated signal system commutations, etc.
However, many in the audience stressed that while adopting different technologies, authorities should make sure the proposed transport modes affordable to the public.