---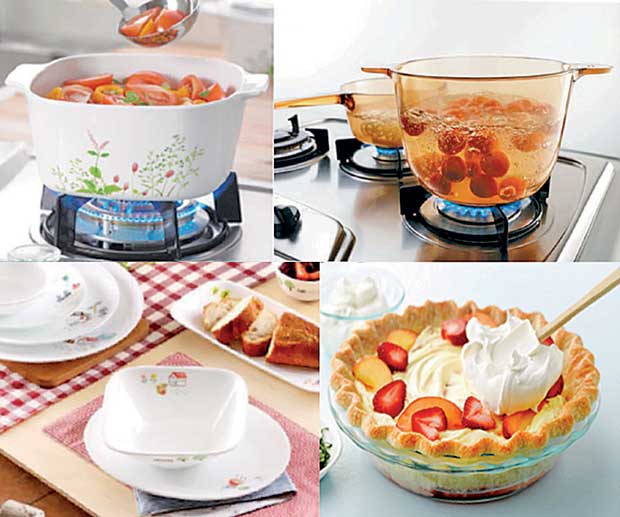 Modern cooking was never so convenient till Pyrex introduced its range of ultra tough cookware and bakeware. The innovative Visions and Corning range in which you can cook over a direct flame, serve, freeze, reheat and serve again, all in the same dish, saves the housewife precious time in washing and cleaning.

Pyrex bakeware is the preferred choice for every baking requirement as well as oven and microwave cooking and is made of Heat-resistant Glass, while the elegant and stylish Corelle tableware complement Corning cookware with matching designs and styles. The Corelle is made of chip and break-resistant ceramic.

Over the years Abans PLC has gained widespread recognition as Sri-Lanka's most trusted cookware and kitchenware retailer. Abans is home to world-class brands namely, Pyrex, Visions, Corningware and Corelle from USA that have played an integral part in re-defining ones overall cooking experience and in addition Abans is the proud, sole distributor of these amazing products in Sri Lanka.

Pyrex has successfully changed the outlook of consumers towards bakeware by being one of the first such inventions to offer style and elegance along with efficient cooking and baking results. Pyrex is predominantly popular for its see-through feature that allows users to easily monitor the process of baking. All Pyrex products offer safe usage for freezers, microwaves, ovens and dishwashers. They are equipped with soft contours that enable consumers to easily grip onto the handles for cooking or washing purposes whilst preventing the risk of getting burnt. This highly durable product offers a vast range of shapes and sizes from, round bowls to oblong trays that deliver durability along with a resistance to stains and odours.

Similarly Visions also provides a range of products that can multitask in the kitchen and is often perceived as the perfect equipment for water-based cooking. Visions products are famous for effectively retaining heat for prolonged periods of time making cooking convenient and energy efficient. These products are compatible with direct heat, refrigerators, freezers, ovens, microwaves, stovetops, halogens and dishwashers. Furthermore the products are so stylish that consumers can cook and serve in them at the same time. All products can withstand extreme temperatures without over-cooking or impacting its shape in any form. They remain stain-free, prevent unpleasant odours, and have a see-through appearance that makes it easy to observe the cooking process. Visions cookware has embarked on a journey of providing paramount efficiency in the kitchen while maintaining extreme ease of use.

Corningware has impressed consumers over the years with its versatility and elegance. This brand has been designed to primarily meet the demands of Asian cooking. It is adaptive to immediate to temperature changes taking convenience to a whole new level wherein consumers can put cookware on direct heat such as on the stove or in the microwave as soon as it is out of the refrigerator. Like the aforementioned brands Corningware is highly durable and maintains its attractive appearance even after years of extensive use. An assortment of colours and patterns in various shapes and sizes are available enabling people to choose cookware that match their favourite colours and thus serve in style.

The unique designs of Corningware cookware complement Corelle Dinnerware completing the ultimate dining experience. Its attractive features include being lightweight with a resistance to chipping, breakage, or staining from daily use. Strength and durability have made Corelle an extremely popular product globally. The dinnerware comes in an array of designs and shapes to mark a memorable dining experience. Moreover for hygienic purposes it is equipped with a non-porous surface that prevents retention of food particles, odours and staining. It is safe for dishwasher and microwave usage thereby, being time efficient by shortening preparation, cooking and washing time. The lightweight design generates easy handling and compact storage facilities for neat and tidy interiors.
Along with being versatile these products are also highly durable thereby enabling an overall hassle free usage. Given that the risk of breakage is considerably low in comparison to other products, consumers can use these products more freely without taking extra precautionary measures to make sure it is safe.

These products are available at all Abans Showrooms Islandwide and can be witnessed live in action during the cookery demonstrations held at the Abans Elite Showrooms plus the products are on discounts of up to 30%. Abans is a household name in Sri-Lanka and continuously work towards bringing consumers the best quality products and customer service. A pioneer in home appliances in Sri Lanka, Abans offer consumers carefully selected kitchenware and dinnerware, and everything else you need, from the world's best brands, to make your home complete.