---
Abans yesterday announced the appointment of Sriyan de Silva Wijeyratne as its Chief Executive Officer (CEO). The company said he would assume duties effective mid-August 2018.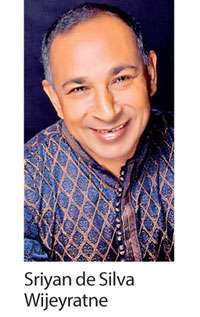 "From the company's inception, Abans' goal has been to elevate the living standards of Sri Lankan citizens by distributing world-renowned brands, which espouse innovation, ingenuity and tenacity as their primary values and providing excellent customer-centric after-sales services.

Now, as Abans approaches its 50th anniversary, we hope to reinforce this vision by undergoing a progressive evolution in the company's management structure and operations with Sriyan's seasoned guidance and leadership," Abans Group Chairman Aban Pestonjee said.

Commenting on Sriyan's appointment, Abans Managing Director Behman (Tito) Pestonjee said, "Abans has reported remarkable growth in its past years of operation and with the appointment of Sriyan, I am confident that Abans now has the leadership, vision and staff to build on its strengths and focus on an exciting new direction, which will ensure sustainability, growth and profit.

The appointment reflects our intent to place Abans on a growth trajectory that will uplift the company to the next level. Sriyan brings new diverse experience into the company and I am excited and look forward to working closely with him." Possessing diversified industry experience across local and multinational corporations, Sriyan brings with him a substantial track record of achievement.

He most recently served as Managing Director/CEO of Teejay Lanka PLC, where he oversaw its rapid transformation into a regional powerhouse that commands critical acclaim from international business bodies such as Forbes and many others.

Before joining Teejay Lanka, he acted as Microsoft's Country Manager for Sri Lanka and Bangladesh. He was primarily responsible for developing Microsoft's market position in Sri Lanka. Further, Sriyan has held prior roles at Suntel Ltd and Nestle Lanka PLC in telecommunications and consumer and retail marketing, respectively. Having acquired a First Class degree, a Master's degree and other academic and professional qualifications, Sriyan is regarded to be a thought leader in Sri Lanka's business community.

Previously adjudged as CIMA Business Manager of the Year, he has also been a frequent speaker at leading regional and Sri Lankan forums. Sriyan currently divides his time between several professional organisations and reputed local and global charities. In addition, he is a wildlife enthusiast whose primary interests lie in travelling, photography, music and sports.

Discussing his future role, Sriyan remarked, "I've had the pleasure of working closely with Abans for a while. I am deeply honoured to take on this wonderful new assignment and help facilitate the company's transformation and evolution into the next phase of growth and expansion. These are challenging yet exciting times and I look forward to joining this great team and leveraging my prior exposures to help add value to the journey we will chart for the company, which already has a rich family heritage and entrepreneurial spirit."