---
AIA Insurance Lanka PLC reported enhanced top and bottom line performances during its second quarter (2Q17) and its first half of 2017 (1H17) showing signs that the local unit of the world's second biggest life insurer by market value is on course to gain more market share in an overcrowded Sri Lankan insurance market.

The interim financial accounts released to the Colombo bourse showed that AIA Sri Lanka had reported a gross written premium (GWP) of Rs.2.9 billion for
the 1Q17, up 17 percent year-on-year (YoY).

The consolidated earnings were at Rs.2.07 a share or Rs.63.8 million for the period, almost doubling from Rs.32.9 million made YoY.

This profit does not include the surplus on life insurance business as the company transfers the life insurance surplus to shareholders at the end of the financial year after the actuarial valuation.
AIA Sri Lanka's public free float amounts to just 2.84 percent spread among 1,849 shareholders and the insurer is yet to comply with the minimum shareholder requirements to the Securities and Exchange Commission.
The AIA group held a 97.16 percent stake in the company as at June 30, 2017.

The company's total revenue also rose by some strong 32.0 percent to Rs.4.8 billion compared to Rs.3.6 billion YoY as the higher investment income, fee income and fair value gains supported its top line.

The company paid claims and benefits of Rs.1.1 billion, almost the similar amount it paid during 1Q16.

In a stock exchange filing, AIA Sri Lanka Chairman William Lisle said the company continued to execute its strategic initiatives that aim at delivering profitable growth.

"The primary focus in the first half was to improve the product portfolio to meet customer needs, enhance distribution reach and capabilities of the agency and bancassurance channels and deliver a superior customer experience.

We believe successful implementation of these initiatives will bring long-term benefits to our business," Lisle added.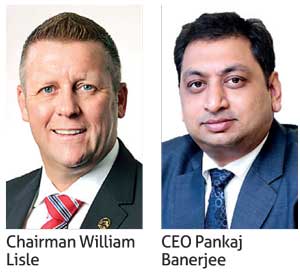 Hong Kong listed AIA group entered the Sri Lankan market in 2012 acquiring the British insurer Aviva's Sri Lankan operation in a US $ 109 million deal.

Then in 2015, AIA Sri Lanka sold its general insurance business to Janashakthi Insurance in a deal worth little over Rs.3.0 billion to concentrate and grow its life business.

Meanwhile, for the 1H17, AIA Sri Lanka reported a 14 percent YoY increase in GWPs and 28 YoY percent growth in total revenues.

The consolidated profit after tax for the 1H was Rs.135 million compared to Rs.120 million reported for the 1H16.

During the 1H17, the AIA group said its new business value rose by 39.0 percent internationally, which was better than expected.