---
AIA Insurance Lanka PLC (AIA), the local unit of Asia-based AIA Group Limited, saw its June quarter (2Q16) net profit falling by 33 percent from a year ago to Rs.33 million or Rs.1.07 a share due to the steep increase in operating and administrative expenses, but the gross written premium (GWP) recorded a growth, the interim results showed. Operating and administrative expenses rose by 28 percent year-on-year (YoY) to Rs.1.15 billion while the change in contractual liability rose by 31 percent YoY to Rs.973.3 million.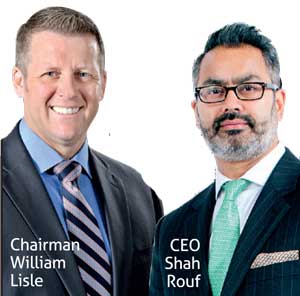 The GWP rose by 21.2 percent to Rs.2.49 billion from the same period a year ago. The profit for the 2Q16 however does not include the surplus of the life business as such is reported annually at the year end. The investment income rose by 24.5 percent YoY to Rs.1.19 billion due to the rise in interest rates.
AIA, in October 2015, divested its fully-owned general insurance subsidiary, AIA General Insurance Lanka Limited, to Janashakthi Insurance PLC for a consideration of Rs.3.2 billion to fully concentrate on life business. AIA Group Limited, the third-largest Asia-based insurer by market value, entered the Lankan market in December 2012 with the 92.7 percent acquisition of the then AVIVA NDB Insurance in a deal valued at US $ 109 million. AIA Group Limited Chief Executive and President Mark Tucker weighs his bets on the Asian region for its future growth. "Asia is the most attractive and dynamic region in the world for life insurance. We are operating in markets that continue to offer sustainable economic growth, increased disposable incomes, powerful demographic and urbanization trends and very low insurance penetration rates," Tucker said in an earnings release in July.

AIA Group Limited, which has operations in 18 markets across the Asian region, increased its after-tax operating profit by 9.0 percent to US $ 1.96 billion for the six months ended May 31, 2016.
The Group has a total asset base of US $ 181 billion.

Meanwhile, AIA Insurance Lanka PLC, for the six months ended on June 30, 2016 (1H16), posted a net profit of Rs.119.5 million or Rs.3.89 a share, recording an increase of 37.5 percent YoY.

The GWP increased by 25.6 percent YoY to Rs.4.9 billion. "The growth in GWP was mainly driven by persistency improvements and a change in premium mode mix," the company said in a statement.
"We believe this growth momentum will strengthen further in the second half," AIA Sri Lanka Chief Executive Officer Shah Rouf said. But the tougher monetary and fiscal conditions are biting into the disposable incomes of the people, which could have a negative impact on the business.

The company during the 2Q16 has launched 'mCash mobile phone wallet', a key premium collection method.

During the 1H16, the investment income rose by 25 percent YoY to Rs.2.3 billion. Net benefits and claims were little changed from a year ago. AIA Group had a 97.16 percent stake in AIA Insurance Lanka PLC as of June 30, 2016.