---
Says Rs.750bn collected at end-November achieving 93% of annual target
Eyes increase in corporate taxes next year helped by rise in consumption
Says SL's Ease of Doing Business ranking will improve with simplified tax system
Expects number of tax files to come down with tax cuts and removal of certain taxes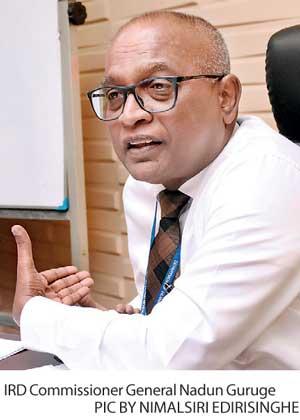 By Nishel Fernando
Sri Lanka's Inland Revenue Department (IRD) is confident of meeting the Rs.800 billion revenue target set for this year while eyeing an increase in corporate tax collections next year to compensate the potential revenue loss from the recently introduced sweeping tax cuts.

"At the end of November, we have collected Rs.750 billion achieving 93 percent of our annual target. We are confident that our target wouldn't be impacted this year due to tax cuts," IRD Commissioner General Nadun Guruge told reporters in Colombo yesterday.

The IRD on behalf of the government collected Rs.652 billion from various taxes, including Value Added Tax (VAT), Nation Building Tax (NBT) and Pay as You Earn (PAYE) in 2018.
The key tax cuts announced last week included a reduction in VAT rate, increase of tax-free threshold of PAYE tax and the removal of NBT. The VAT registration threshold was also increased to Rs.25 million a months from Rs. 1 million per month.

The IRD currently maintains 26,000 VAT files, 98,000 NBT files and 273,000 income tax files.

Guruge expects that a large chunk of these tax files will be closed with the reduction of tax rates and removal of certain taxes such as NBT. While welcoming the government's effort to simplify the country's tax system, he acknowledged that IRD was burdened with the administration of a complicated tax system during the past few years.

With the reduction of number of taxes and number of tax payments, the IRD officials highlighted that Sri Lanka's ranking and score in World Bank's Ease of Doing Business Index is likely to be significantly improved, which could potentially be translated into an uptick in FDI flows to the country.
Speaking on the impact of tax cuts to the economy, Guruge was confident it would lead to an increase in public consumption and public savings, which could be translated into an expansion of the tax base in the medium-term.

Further, driven by the anticipated increase in public consumption, IRD officials pointed out that tax revenue from the corporate sector would increase partly compensating the revenue loss due to tax cuts.

Guruge noted that the taxes on majority of the Sri Lankan corporates remain unchanged, although, the tax cuts were extended to certain sectors such as construction and tourism.
As the tax-free threshold of PAYE tax will be increased from Rs.100, 000 to Rs.250, 000 per month with effect from January next year, the IRD expects certain professionals such doctors to come forward and declare their hidden incomes owing to tax reductions.

Guruge noted that it remains a difficult task to tackle tax evaders due to lack of information. However, he is optimistic that most of these tax evaders will start paying taxes due to the reduction of tax rates.