---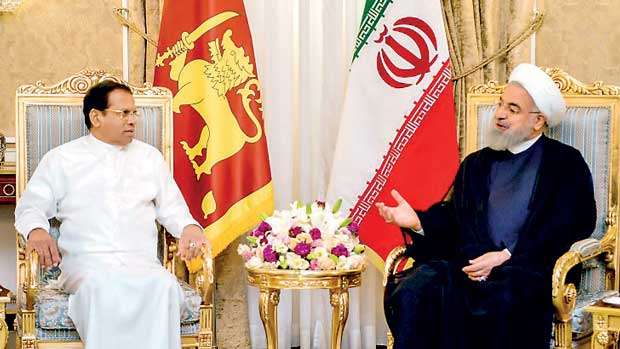 Sri Lanka has expressed interest in establishing direct banking links with Iran.

President Maithripala Sirisena, who this week completed a two-day official visit to Iran, had expressed this during the bilateral discussions with Iranian President Hassan Rouhani.

Sirisena had said that a direct link would make the banking transactions between the two countries uncomplicated, a statement from the President's Media Division said.

Cooperation in the fields of railways, establishment of direct air links and tourism were among other areas discussed by both leaders.

For almost 50 years Iran has been providing support to Sri Lanka in the field of oil refinery and Sirisena said Sri Lanka expects Iran's technical assistance in this regard in the future too.
Iran is the second largest export destination of Sri Lanka in the Middle Eastern region and tea accounts for around 90 percent of total exports.

Rouhani stated that under the Joint Commission for Economic and Technical Cooperation, trade between the two countries would be continued in the future in a stronger manner.

Both leaders agreed to continue with the agreement signed in 2004 with the objective of further enhancing economic and trade ties.

Following the bilateral discussions, five memorandums of understanding were signed in the areas of health, medical science, pharmaceutical and medical equipment; metrology and training; combating illicit trafficking in narcotic drugs; cinema and television and culture, science and technology.