---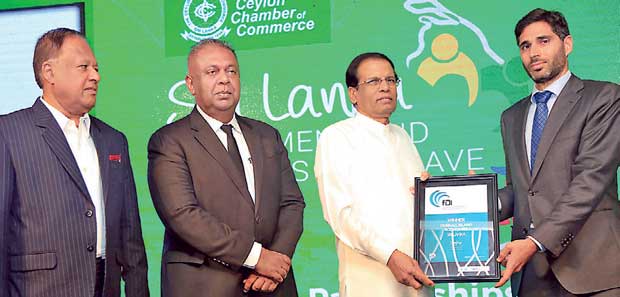 President Maithripala Sirisena receiving the award for the overall winner (Sri Lanka) of 'Island Economies of the Future 2017/2018' adjudged by the fDi Magazine, from its Deputy Editor Jacopo Dettoni in the presence of Finance Minister Mangala Samaraweera and Special Assignments Minister Dr.Sarath Amunugama. Pic By Damith Wickramasinghe
By Supun Dias
The inauguration of 'Sri Lanka Investment and Business Conclave 20017' organized by the Ceylon Chamber of Commerce was held yesterday under the patronage of President Maithripala Sirisena.
The event also saw the establishment of the Private-Public Partnership (PPP) Unit under the Ministry of Finance to bring in more investments to the country.
Ceylon Chamber of Commerce Chairman Samantha Ranatunga welcomed the establishment of the PPP unit said that as Sri Lanka's foreign relations had improved in recent times, the country should look at leveraging that to draw more investments.
In his first official address after assuming duties as the Finance and Mass Media Minister, Mangala Samaraweera stated that when Sri Lanka gained independence in 1948, everyone looked at the island nation admirably and Lee Kwan Yew took Sri Lanka as a benchmark in developing Singapore.
"In a British editorial written during the time we gained independence, it was mentioned that Ceylon was the Switzerland of the East. But unfortunately due to extremism and hate our country had to go through a lot and the economy suffered very much due to the war," he said.
"Now this is the best time to invest in our country as the two main political parties have united to take the country to the future and make necessary reforms by keeping in mind the three main pillars for development; good governance, reconciliation and sustainable development," Minister Samaraweera added.
While welcoming the regaining of the GSP Plus duty concession from the European Union, he noted that by the end of the year Sri Lanka plans to finalize bilateral trade agreements with India, Pakistan, China and Singapore, a move that would pave the way for the country to enter a market of three billion people.
The minister said that the newly established PPP unit would be used to build a dynamic economy for Sri Lanka with foreign and local private sector investments
Minister for Special Assignments Dr.Sarath Amunugama, who spoke on behalf of President Sirisena said that the Sri Lanka is the safest place to do business in South Asia.
"We are strategically located in the busiest shipping lane in the world and it allows us to attract investments from all over the world. We are going to bring 300 plus industries to Hambantota and the development of the Port City will make Sri Lanka a financial hub located between Dubai and Singapore,"
he said. "So we invite all of you to witness the development that the country is going through presently and invest in this country which has tremendous potential," he added.
Investors and business partners from over 20 countries are taking part in the 'Sri Lanka Investment and Business Conclave 2017' and the two-day event will see more than 700 B2B meetings taking place.