---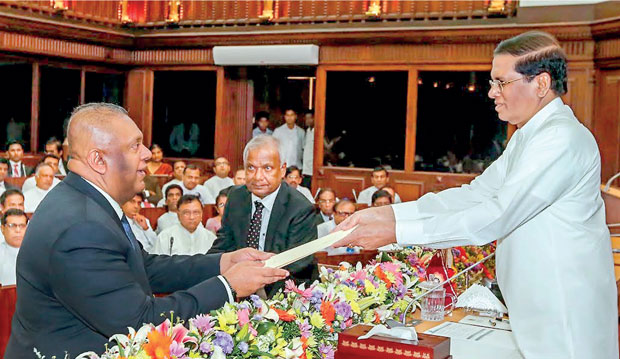 Minister Mangala Samaraweera receives his letter of appointment from President Maithripala Sirisena
By Chandeepa Wettasinghe
The appointment of Mangala Samaraweera as the country's Finance Minister yesterday drew positive responses from the private sector, which insisted that he should continue the reform process that has already been set in motion.
"At a time when we were starving for positive news, we view his appointment positively and we wish him very well. Our key expectations are for policy continuity as well as vigour in implementing policies," Ceylon Chamber of Commerce Chairman Samantha Ranatunga said.
Samaraweera in his Twitter accounts said he was deeply humbled by the trust place on him by President Sirisena and Prime Minister Wickremesinghe in creating "a robust flourishing and modern economy".
Most investors have been complaining about Sri Lanka's policy consistency, which has become a victim of party politics in the unity government—a scenario that contributed to foreign direct investments in 2016 slumping by 34.4 percent year-on-year to US $ 445 million.
Meanwhile, Colombo Stockbrokers' Association President Ravi Abeysuriya too shared sentiments similar to that of Ranatunga.
"We are very hopeful and positive that things will be better. We are looking forward to a consistent policy framework and implementing the policy reforms that have already been announced," he said.
Abeysuriya noted that some desirable reforms have been communicated by former Finance Minister Ravi Karunanayake recently, including through the 2017 budget. The government is attempting to broad base the income taxation and liberalize the foreign exchange regime—two key reforms Karunanayake was attempting to push through—although his approach to foreign exchange reforms without widespread stakeholder engagement drew criticism last month.
Karunanayake saw some success in improving the government's revenue to gross domestic product (GDP) ratio up to 14.9 percent from the 11.5 percent level that prevailed when former President Mahinda Rajapaksa was the Finance Minister.
But improved government finances came at a considerable political cost, as the higher indirect taxes slapped on people through the increase of value-added tax drew massive public discontent.
Meanwhile, several political observers noted that the future policy direction from the Finance Ministry would depend on who Samaraweera selects as his deputy, since the minister is believed to have limited experience on the subject.
Ranatunga noted that Samaraweera has able department heads and ministry advisors at his service as well. It is not yet clear which government departments, agencies and enterprises will fall under Samaraweera, who enjoys relatively an untainted reputation. Speculation is rife that several gazette notifications are due over the responsibilities of some of the reshuffled ministers.
Samaraweera was an effective Foreign Minister, who attempted to reconcile the nation and gave Sri Lanka breathing space at the United Nations Human Rights Commission. He was also instrumental in Sri Lanka regaining the GSP Plus trade concession from the European Union. Karunanayake, who held the Finance portfolio till yesterday, brought the country's budget deficit down to 4.4 percent of GDP in 2016 from 7.4 percent in the previous year though higher taxes, better tax collection and expenditure cuts.
He was recognized as the Best Finance Minister of the Asia Pacific for the year 2016 by the UK-based The Banker magazine.
One of the major criticisms of Karunanayake's time in the Finance Ministry was his repeated attempts to invade into the spheres of operation and the independence of the Central Bank.