---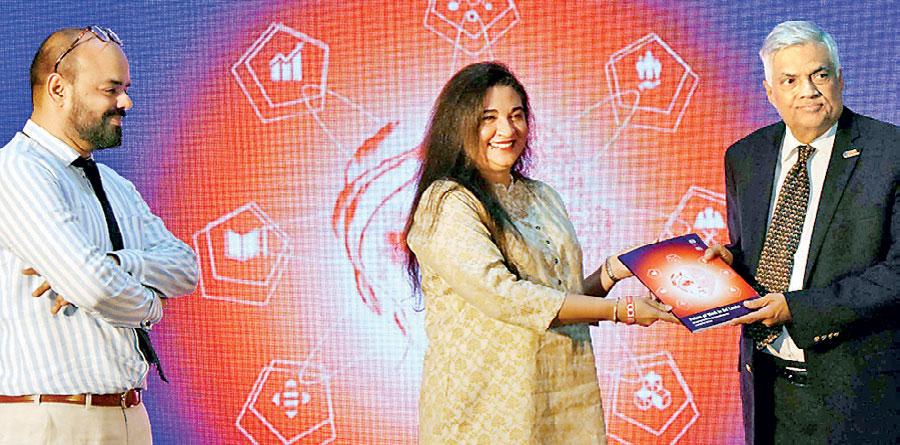 ILO Country Director for Sri Lanka and Maldives Simrin Singh Presenting "The Future of Work in Sri Lanka" report to Prime Minister Ranil Wickremesinghe in the presence of Goa-based Tandem Research Founding Director Dr. Vikrom Mathur
Pic by Nimlasiri Edirisinghe
By Nishel Fernando
As emerging technologies are disrupting the world of work creating winners and losers, Prime Minister Ranil Wickremesinghe said his government is committed to carry out labour market reforms for a smooth and inclusive transition towards a competitive social market economy.

"With future of work in Sri Lanka in mind, we have to deal with many new concepts such as will we have a basic income? How you fund it, how you distribute it? We have to make this transformation.

We cannot resist this transformation," Wickremesinghe said.
He made these remarks on Wednesday at the Trace Expert City when the International Labour Organisation (ILO) launched a milestone report titled "The Future of Work in Sri Lanka: Shaping Technology Transitions for a Brighter Future.' The ILO expects that emerging technologies associated with Fourth Industrial Revolution will transform Sri Lanka's labour market creating both winners and losers where government intervention is required to make this transformation more equitable and inclusive.

Speaking to Mirror Business on the sidelines of the event, Commissioner General of Labour, R.P.A. Wimalaweera revealed that the preparations are already underway to draft a single employment law, which will address the wages and conditions of work while incorporating the new dynamics of employment such as part-time employment and flexible working hours.
"We will introduce part-time and flexible working hours without sacrificing labour rights. We will also be addressing the sexual harassment at workplace and no discrimination policy," he said.

Following the preparation of new draft law with the assistance of several leading consultants, the Department of Labour plans to hold public awareness sessions and stakeholder consultations for the new legislation by end of this year before presenting it to the Cabinet of Ministers.

While terming Sri Lanka's existing labour laws as complicated, discriminatory and cumbersome to enforce, Wimalaweera stressed that Sri Lanka needs simplified labour laws to become more investment and business-friendly without compromising labour rights.

Further, he pointed out existing laws have separate laws under different wage boards for blue collar workers and white collar workers, which is discriminatory.
"We cannot separate people; we cannot discriminate people based on the job they perform," he stressed.

As per current legislation, different wages boards have different statutory holidays as well different definitions for terms without any uniformity.

Wimalaweera said that the new labour law will address the wages and conditions of employment by brining all positive aspects of existing laws. Meanwhile, Premier Wickremesinghe emphasised that Sri Lanka will have to explore the possibility of increasing the retirement age beyond 60 as per the current demographic structure, since there will be only a marginal growth in Sri Lanka's population in coming years.

Speaking at the occasion, Labour and Trade Union Relations Minister Ravindra Samaraweera opined that Sri Lanka does not need to fear of future of work, as the transformation will create new opportunities while enhancing living standards.

"Whenever a new technology arrives, a predictable pattern follows. The technology disrupts existing industries leading to job losses, and the new business will use these technologies to create new type of jobs as well as entirely new industries.

One such example is Uber. This in turn has increased demand in every sector of the economy, creating new job opportunities and raising living standards," he elaborated.

Wickremesinghe further noted that simultaneous reforms in the education sector including the measures to enhance the country's vocational training and tertiary education are currently underway to meet the future skill demand.