---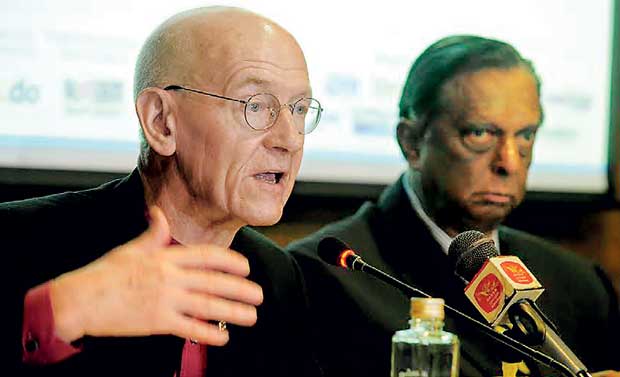 PATA Chairman Andrew Jones (left) and Tourism and Christian Religious Affairs Minister John Amaratunga. Pic by Damith Wickramasinghe
By Chandeepa Wettasinghe
Weaknesses of Sri Lanka Tourism's policies and research were on open display at the Pacific Asia Travel Association (PATA) Annual Summit, which concluded at Jetwing Blue hotel in Negombo, yesterday.
"According to PATA's upcoming Asia Pacific Business Forecast for 2017-2021, international visitor arrivals into Sri Lanka are expected to grow by an average 10.4 percent annually between 2017 and 2021. And nearly reach the 3.7 million mark by 2021," PATA Chairman Andrew Jones said.
The latest objectives of Sri Lanka Tourism are for Sri Lanka to attract 4.5 million tourist arrivals by 2020 at a compounded annual growth rate of 21.72 percent, a goal which Sri Lanka is unlikely to achieve for several years even after 2020, judging by PATA data, which indicates a 12.75 percent growth rate until 2021.
Historical data collected by Sri Lanka Tourism too points towards steeply falling growth rates in successive years, down 14.5 percent in 2016 as higher base tourist arrivals become unsustainable without promotional efforts.
Policies and targets for Sri Lanka Tourism are formulated with the assistance of a Tourism Advisory Council comprising of leading tourism companies, highlighting that the private sector in tourism too is disconnected from reality.
PATA seems to have more credible data than Sri Lankan tourism authorities as it operates extensively across Asia Pacific. Lanka Tourism Development Authority and Sri Lanka Tourism Promotions Bureau Chairman Paddy Withana recently admitted that no market research has been conducted in Sri Lanka's key tourism markets.
The need for tourism research was on centre stage at the PATA summit, with Skylight Intelligence Global Advisory Council Senior Executive Advisor Joseph Naaman noting that research methods fit to analyse modern tourism trends are needed.
"You need to ask the right questions from the beginning. In certain cases, doing a simple survey is enough, but in most cases, you need to go beyond simple surveys into research techniques to get the attribution that is needed," he said in response to a question whether governments should only publish simple arrival statistics.
While Sri Lanka Tourism has been following one of the key recommendations of Naaman to some extent, by collecting and publishing some key statistics collected by third parties annually, the authorities have not analyzed and combined these different statistics to create sophisticated, actionable data and to identify trends, which Naaman advocates.
He also said that tourism authorities who have limitations in their ability to spend on massive market research drives have newer research tools available for low costs.
"You don't need a US$ 50 million budget to do some of these things. Specially digital listening, you can do for tens of thousands of dollars. It's really not that much," he said.
He also noted that research efforts need to be sustained at regular frequencies.
Mirror Business in several of our stories have pointed out the critical deficit of tourism research in the country, which tourism authorities seem to only pay lip service to.
Tourism Australia Social & Content Marketing Global Manager Jesse Desjardins emphasised the need for national tourism authorities to collaborate with different stakeholders, instead of creating critics.
Desjardin's superior, Tourism Australia Deputy Chairman Andrew Fairley, who was visiting Sri Lanka a fortnight ago, too had pointed out the lack of tourism research by the state authorities.
Sri Lanka Tourism is now gearing up for mega promotional campaigns and strategies running into billions of rupees without the research to rationalize spending.
The Sri Lanka Tourism Promotions Bureau has failed to reply within the stipulated time frame to a Right to Information application by Mirror Business requesting the information that was used to create these plans.