---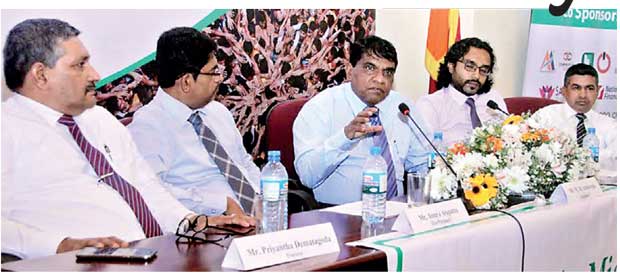 From left: LMFPA Treasurer Priyantha Dematagoda, Vice President Anura Atapattu, President M.M. Attanayake, Secretary Imran Nafeer and Assistant Secretary Mahinda Wickramasinghe
Pic by Pradeep Dilrukshana
By Zahara Zuhair
The industry association of the microfinance practitioners, Lanka Microfinance Practitioner's Association (LMFPA), last week sought the assistance of policy makers and regulator to create a sustainable microfinance industry in the country.
"In the world, there is a paradigm shift in microfinance. One of the major aspects is the sustainability of microfinance institutions. We have to introduce some commercial finance activities. We have to make sure capacity building is ensured for the success of the industry," LMFPA President M.M. Attanayake told a press conference held to mark the association's 10th anniversary, last week in Colombo.
He said regulators and policy makers should be looking at formulating laws allowing microfinance operators to introduce some new products such as microfinance insurance ,to better serve the poor and the low-income segments of the country.
Attanayake also stressed that the microfinance industry needs access to Credit Information Bureau (CRIB) of Sri Lanka, which could help the industry to reduce defaults and operate at a more sustainable footing.
He also stressed the need to go for paperless finance operations and mobile banking for microfinancing and to introduce finance instruments such as bio-metric ID cards.
"We need policy support from the government for these," he said.
It was noted that LMFPA in the previous year had invested Rs.30 billion in the sector, and they said that this year they would double the amount.
Meanwhile, delivering the keynote speech at the event, Sarvodaya Movement Founder Dr. A.T. Ariyaratne acknowledged that the regulators have made some positive changes concerning the microfinance industry such as passing the Microfinance Act, which was delayed for many years.
But he stressed that policy makers and regulators should think of ways and means of protecting real microfinance providers while pushing them to have more customer-focused services.
"I have my concerns on the impact of the recent budget proposal not to report credit information of loans below Rs. 500,000. It would definitely affect the decision-making and credit sanctioning for micro credit as multiple borrowings from various micro finance providers will not be visible," he said.
He also said policy makers should make micorfinance accessible for low-income categories, who have not been catered by the traditional banking, by not pushing microfinance institutions to demand high-end collateral.
He pointed out that the lack of CRIB status may push microfinance operators to seek collateral for credit sanctioning and this would not be beneficial to the low-income category and may be detrimental to the whole industry.
Ariyaratne also said that microfinance practitioners should refrain from charging very high interest rates from borrowers and not overburden them with unsustainable repayment plans that would in turn adversely affect the whole industry.
He added that microfinance practitioners should always be mindful of the plight of the poor in the country.
LMFPA has 71 member organisations representing NGOs, cooperatives, microfinance companies, banks, finance and leasing companies and capacity development institutions.
The LMFPA was earlier known as Lanka Micorfinance Network (LMFN), which was officially registered in year 2006 as an association under the Companies Act of Sri Lanka.
LMFPA said they would be organizing an international conference early next year in Colombo to educate the public on microfinance with the participation of some Asian and African countries.