---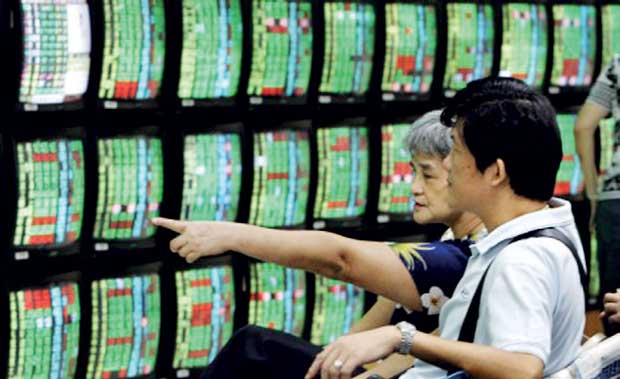 AFP: Asian equities extended heavy losses yesterday as a worldwide sell-off triggered by US President Donald Trump doubling down on his North Korea rhetoric showed no sign of abating.
European markets also slid in early trade after Wall Street indices suffered their biggest losses in nearly three months Thursday, while the dollar struggled to recover from eight-week lows below 109 yen as investors fled to safe haven assets.

Traders across the globe reacted with dismay to Trump's warning Thursday that his earlier threat to unleash "fire and fury" on the reclusive nuclear-armed state may not have been "tough enough".
With Japanese markets closed for a public holiday, Hong Kong led the downward charge in Asia-Pacific as the Hang Seng lost more than two percent.

The index was also dragged lower after Beijing ordered probes into three major Chinese social networking platforms over outlawed content.

Shanghai posted its biggest one-day drop since December while Seoul stocks again ended deep in negative territory and the won continued its slide against the dollar.

"Risk-off sentiment dominates Asian markets into the end of the week with President Donald Trump's words still sending shockwaves into the markets," said Jingyi Pan, market strategist at online trader IG.

Singapore's DBS bank added in a statement that the yen "remains the safe haven currency from the sabre-rattling between US President Donald Trump and North Korea".

Gold, another classic safe haven asset, was trading at around US$1,285 per ounce, up more than two percent this week and near a nine-week high.

Analysts warned the softening dollar could test June's low of 108.82 yen and even the 2017 trough of 108.13 yen.

The greenback also came under pressure after New York Federal Reserve President William Dudley cautioned it would "take some time" for US inflation to reach the bank's two percent target, the latest warning price pressures remain muted.

US producer prices Thursday disappointed, as traders await consumer price inflation figures later Friday.

"Both (PPI measures) were well below consensus and give us no hope that consumer price inflation is going to materially beat expectations," said Chris Weston, chief market strategist at IG Markets.
However, market watchers said equity markets remained focused on the deepening geopolitical crisis, as angry threats from Washington and Pyongyang stoke fears of a catastrophic miscalculation with global consequences.

"Most certainly the market was hoping for some upbeat assessment from Fed Bill Dudley but it was Trump talk that trashed the equity markets, nothing more nothing less," said Oanda's Stephen Innes.
In commodities trading, crude was down after an OPEC report showed production by cartel members increased slightly in July, including by Saudi Arabia which had championed efforts to extend an output freeze.

Comments from Russian state energy giant Gazprom about reopening a closed field -- once the deal to curb supply and bolster prices expires also depressed sentiment.

"On many occasions, we've also heard from the Russians, and from Russian oil producers, that once the deal is complete and free production reigns again that Russia will prime the pump," said Greg McKenna, an analyst at AxiTrader.