---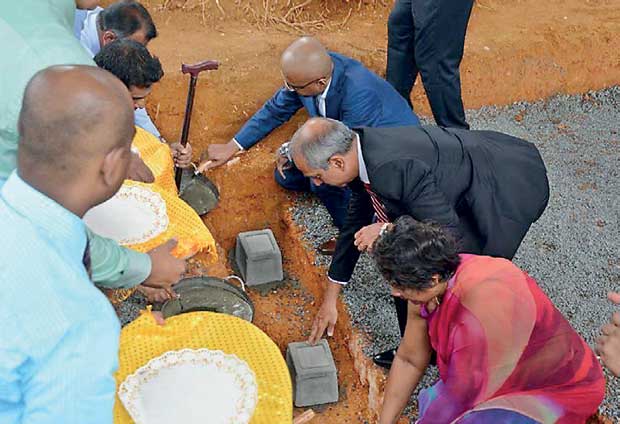 J.L. Morison Son & Jones (Ceylon) PLC Independent Non-Executive Director Aruni Rajakarier, Hemas Holdings PLC Chairman Husein Esufally and JL Morison Son & Jones (Ceylon) PLC Managing Director Trihan Perera laying the foundation stone for the new manufacturing facility
The foundation laying ceremony of pharmaceutical manufacturer JL Morison Son & Jones (Ceylon) PLC's US $ 13.5 million research and manufacturing facility located within the Sri Lanka Institute of Nano Technology (SLINTEC) in Homagama took place, yesterday.
JL Morison is a subsidiary of Hemas group, which has interests in fast moving consumer goods, healthcare, transportation, and leisure. The plant will be the first European Union Good Manufacturing Practices (GMP) compliant facility in the country. The state-of-the-art facility is expected to be in operation by March 2019 and will further augment the manufacturing capacity of JL Morison.
"The new research and manufacturing facility marks an exciting new era for JL Morison and is also significantly, a key milestone for the industry," JL Morison Managing Director Trihan Perera said,"The facility will create employment for over 200 skilled and semi-skilled persons.
It will enhance the use of new technology in the industry and facilitate a modern and technologically-advanced workplace for our employees.
Most importantly, the establishment will focus on increasing the availability of an even wider range of high quality, efficacious pharmaceuticals in the country, thereby enhancing our self-sufficiency. This will help save valuable foreign exchange over the years and help bolster our nation's foreign exchange earnings through exports," he added. Perera also stated that the new facility will contribute significantly in achieving a near self-sufficiency towards pharmaceuticals, while creating a stronger footprint in exports. A globally significant pharmaceutical manufacturing industry in Sri Lanka will be able to better support a robust national health policy that will benefit all Sri Lankans.
J L Morison commenced operations in Sri Lanka in 1939 and was listed on the Colombo Stock Exchange in 1964. In May 2013, the Hemas group acquired a controlling stake of the company. Today, it is a fully Sri Lankan owned company with over seven decades of experience in pharmaceutical manufacturing and renowned over-the-counter brands such as Morison's Gripe Mixture, Lacto Calamine, and Valmelix, amongst others. The manufacturing process maintains stringent quality standards and is in compliance with the recognised pharmacopeia specifications and good manufacturing practices, in line with World Health Organisation (WHO) guidelines. The global Pharmaceutical industry is one of the fastest growing industries, which over the last decade, has grown steadily at a compound annual growth rate of 5.8 percent. The stable growth trajectory is expected to continue and reach US $ 1.4 trillion by 2020. The rise of 'pharmerging markets' which is expected to reach US $ 350 billion by 2020 is one key trend seen abetting this growth.