---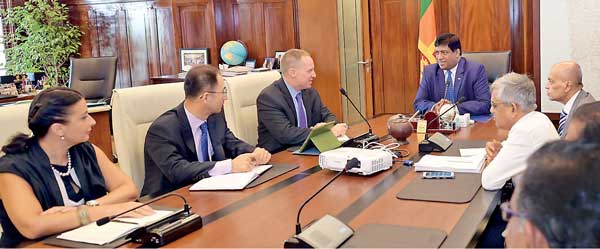 Finance Ministry team led by Minister Ravi Karunanayake and IMF Mission led by Todd Schneider in discussion at the Finance Ministry premises in Colombo
IMF representatives yesterday met Finance Minister Ravi Karunanayake for a mission review of the US $1.5 billion loan approved for Sri Lanka under the Extended Fund Facility (EFF) to support the country's economic reform agenda.

IMF Mission Chief Todd Schneider, Representative Jaewoo Lee and, Country Representative for Sri Lanka and Maldives, Eteri Kyintradgze, met the Minister of Finance at his Ministry and reviewed the progress of the reforms agenda of the government.
The Secretary to Treasury, Dr. R.H.S. Samaratunga, was also present during the discussion.
The Executive Board of the International Monetary Fund (IMF) in June had approved a 36-month extended arrangement under the Extended Fund Facility (EFF) with Sri Lanka for an amount equivalent to SDR 1.1 billion (about US$1.5 billion) to support the country's economic reform agenda.
Karunanayake who thanked the IMF for its timely assistance explained in detail the economic targets set by the unity government.
Elaborating the government's fiscal consolidation target, the Minister said that the government was very clear in gradually reducing the overall fiscal deficit to 3.5 percent of GDP by 2020.
"We had a budget deficit of 6.7 percent of the GDP last year and this year's target will be 5.4 percent. It will be further reduced to 4.7 percent in 2017," the Minister asserted.
Karunanayake also briefed the IMF representatives on the policies and programmes undertaken to support adjustment and reforms.
Apart from the fiscal consolidation, the other areas included under reforms are revenue mobilization, public financial management and the reforms in the state-owned enterprises.
The IMF mission representatives admired the progress made in the right direction under the reforms agenda.
They also expressed their hope that the unity government would be able to achieve the desired economic progress in the near future as stimulated in their reforms agenda.
The first tranche of the loan was disbursed in June and the rest will be disbursed in five equal tranches and the next tranche is due in November.

The reports of the review meeting the mission representatives held with the Finance Minister in the presence of the Treasury Secretary will be tabled in the IMF November regular meeting, enabling the disbursement of the second tranche of the IMF loan.