---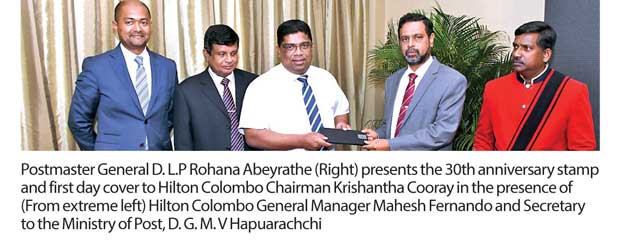 By Shabiya Ali Ahlam
Hilton Colombo yesterday reached the three-decade milestone in serving Sri Lanka's tourism landscape.

WATCH VIDEO

Taking pride in welcoming guests over the last 30 years with its authentic legacy of style, elegance, gracious hospitality and superlative service standards, the senior management of the establishment yesterday pledged it will continue to deliver 'excellence' in the years to come, regardless of the status of the operative environment.
"We have been successful in good times and bad, we have faced many challenges and we have come through. Sometimes it's not how hard you can hit but how hard you can get it that matters.

"Hilton Colombo will always remain in the hearts and minds of the people of this country because it has been there before the war, during the war and after the war, and has never failed to deliver anything less than excellence in service," said the Hilton Colombo Chairman Krishantha Prasad Cooray at an event in Colombo, held to mark the successful completion of 30 years in the country.

The anniversary celebration that started yesterday, kicked off with the issuance of a special stamp and first day cover and the launch of the 30th anniversary logo.

The celebration also recognized 20 employees who have been with the Hilton Colombo since its inception. The list included 18 from the Hilton team, two from the Hotels Development Lanka Team, of which one member has progressed to board level.
Providing a snapshot of the celebrations slated, Hilton Colombo General Manager Manesh Fernando shared the hotel would do so by serving the underprivileged. However, he did not spill out further details stating the management would prefer carrying out such activities away from the limelight.

However, he pointed out that the "celebration" would go on for the entire year.

It was shared that over the last 30 years, over 10,000 persons have had their wedding celebrations in the premises, and over 25,000 individuals have gone through the Hilton Training School.

Hilton announced major plans this year where it is gearing up to have a property in all the tourism hotspots island wide. Currently the Hilton brand is limited within the Colombo city.

The management expressed that with the successful completion of the first phase of the hotel's refurbishment agenda, it is now poised to commence the next phase in the third quarter of its financial year.

Upon completion of the second and final phase, the Hilton team assures its patrons can look forward to an expansion of banquet services to boost its MICE (Meetings, Incentives, Conferences, and Events) business.

While affirming the company is ideally positioned to harness the opportunities of a growing tourism market, it is stressed that the ongoing extensive capital investments would enhance the hotel property and assist in sustaining its iconic presence in a dynamic and fast-evolving sector.