---
By Nishel Fernando
Although Sri Lanka's ongoing programme with the International Monetary Fund (IMF) is reaching its final stages, the country's next government will have to maintain a healthy relationship with the multilateral lender to avert risking a Greek-style austerity scenario, according to the Central Bank Governor
Dr. Indrajit Coomaraswamy.

"As we are an upper middle-income country now with exposure to rating agencies and international capital markets, in my view we are going to have some kind of relationship with the IMF in the foreseeable future.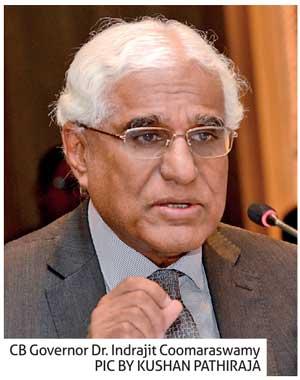 "We may not borrow money from them (IMF). However, we will have to have some kind of relationship, because during the next 3-5 years, we have to borrow about US$ 3 billion or Rs.550-560 billion per annum from international capital markets to be able to meet our obligations and still maintain reasonable amount of imports," Coomaraswamy said.
He made these remarks attending a roundtable discussion on the theme "Transforming Sri Lanka Forum: Empowering the Game Changers" organised by the Pathfinder Advisory Services (Pvt.) Ltd. in Colombo last Friday.

The Governor stressed that the political leaders need to be realistic and come into terms with the fact that the relationship with IMF is going to be a binding constrain for Sri Lanka in near future. "We have to be realistic and understand that a significant amount of our economic sovereignty has been handed over. Nobody has come and taken it away from us, but given the way we have managed our affairs that is the situation we now find ourselves in," he stressed.

Dr. Coomaraswamy pointed out that there's little room to move away from the current macro-economic policy framework, which has been formulated with IMF assistance.

"There's a clear path that one has to follow, if one deviates, then we won't be able to raise that money and we will face a risk of severe austerity.

"Without the US$ 3 billion or Rs.550-560 billion, you are going to have to undertake lot of cuts in terms of expenditure and squeeze domestic absorptions through import compression. In other words, I mean it's basically a Greece-like scenario.

It doesn't have to happen and we can manage the situation for sure. As I said before, there's a narrow track for whoever in power. You can go ten degrees this way or the other way, but the path is very clear," he said. In particular, Coomaraswamy noted that separation of monetary policy and fiscal policy formulation architecture have been viewed as a crucial aspect to continuously support Sri Lanka's funding requirements by both foreign and local investors as they seek more consistent and predictable monetary policy formulation with Sri Lanka becoming amiddle-income country.
In this regard, the amended of the Monetary Law Bill, which includes key reforms to the current Act, was submitted to Parliament last week following the approval of the Cabinet of Ministers. The final vote on the Bill will be held after the conclusion of the presidential elections.

Speaking of potential ways for economic growth revival in the country, the Governor outlined that export transformation and structural reforms is the only option for Sri Lanka to generate high-paying, quality jobs at a 5-6 percent economic growth.

"If we want to create high-paying jobs, if we want to have capacity to pay our debts and still have sufficient space to grow at 5-6 percent, we need to have that export transformation. In that context, the FDI has played a crucial role in supporting that export transformation from the smallest to largest nations such as Singapore and China," he said.

However, he expressed his disappointment over the lack of focus of mainstream presidential candidates on export transformation while sharing concerns over the possibility of re-introducing an anti-export bias approach in the policy framework.

"I don't see enough of this stuff in any of the manifestos. In my view, that has to be the top priority. There's no point in talking of reviving growth in a 20 million market unless you draw on external demand.

"What is crucial is that we don't have an anti-export bias in our policy framework. Our tradable goods sector went down from over 60 percent to 38 percent due to the overvalued exchange rate and due to an increase in effective protection, mainly through para-tariffs," he stressed.

Dr. Coomaraswamy also shared his disappointment in having to speak on the same structural reforms that was in the discourse in 1980s.

"I am saying same things now that was communicated during the tenure of former Finance Minister Ronnie de Mel in 1980s, which were factor markets reforms in terms of business climate, investment promotion, trade facilitation, trade policy, and education and training skills," he elaborated.

On a positive note, he said that these structural reforms have begun under the current regime, but moving at snail pace.

"The positive thing is we have made a start, but we have been very slow in terms of moving forward on all these fronts. While we know what to do, we had difficulties in implementing them. We have to be persistent with these policies; we have to be much more aggressive in terms of implementation."

Dr. Coomaraswamy also advised policymakers to maintain Sri Lanka's status as a non-aligned nation in order to reap full benefits of its focal location in the Indian Ocean without moving away from the country's key partners such as India, China, United States, European Union and Japan.