---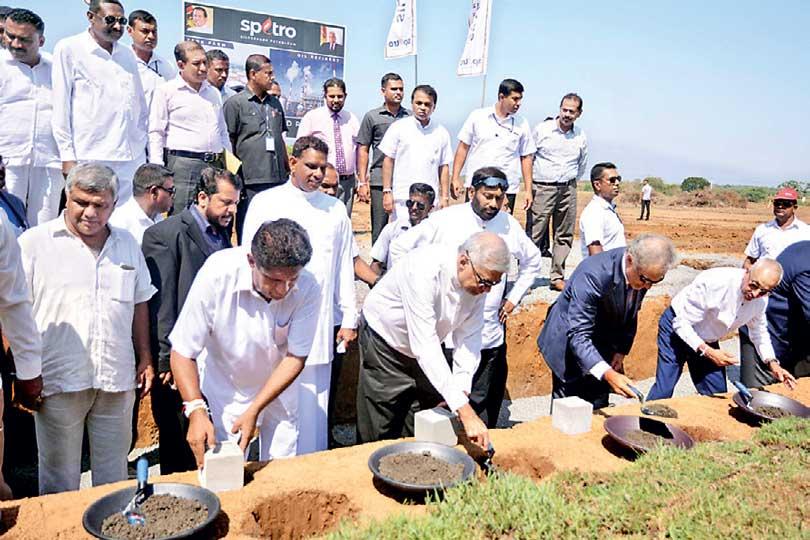 From left: Housing and Development Minister Sajith Premadasa, Prime Minister Ranil Wickremesinghe, Oman Oil & Gas Minister Mohammed bin Hamad al-Rumhy and Development Strategies and International Trade Minister Malik Samarawickrama laying the foundation for the US $ 3.85 billion oil refinery
Pic by Pradeep Pathirena
According to BOI, the green field oil refinery is a 100% foreign investment from Silver Park Petroleum
Premier says H'tota becoming a truly multinational investment zone
Mattala Airport to be operated as Sri Lanka-India joint venture

By YohanPerera
The government is to introduce the Ruhuna Economic Development Corporation Law soon, which it claims would be applicable to the trade zone
in Hambantota.

Prime Minister Ranil Wickremesinghe revealed this during the foundation stone laying ceremony of a new oil refinery backed by Indian and Omani investors in
Hambantota, yesterday.

"We will introduce a special law for Hambantota, which will be named Ruhuna Economic Development and Corporation Law soon," Wickremesinghe said.
The Premier said Hambantota is becoming a truly multinational investment zone as Sri Lankans, Indians, Chinese, Omanis and many other investors from various nations have either already invested or planning to make investments.

"We have approved applications sent by a few Chinese companies to construct an LNG power plant in Hambantota. Today we have started the construction work of a new oil refinery. There is a new cement factory as well.We are making Hambantota an economic hub in the South.

We will continue this. We have only begun with Hambantota. There will be an export zone in Moneragala as well," Wickremesinghe stressed.
He also said the Mahinda Rajapakasa International Airport in Mattala will be turned into a joint venture between Sri Lanka Aviation Authority and Indian Aviation Authority within three months.

"Sri Lankan and Indian aviation authorities will launch the joint venture and make use of the Mattala International Airport within three months. The airport will not be used to store paddy anymore," he said.According to Sri Lanka's Board of Investment (BOI) the green field oil refinery is a 100 percent foreign investment from Silver Park Petroleum (Pvt) Ltd. Total investment of this project will be US$ 3.85 billion. The cement grinding and blending plant factory is a joint venture between Sri Lanka, UAE, Ceylon Steel Corporation and Onyx Group of Companies. Total investment for it will be US$ 100million.