---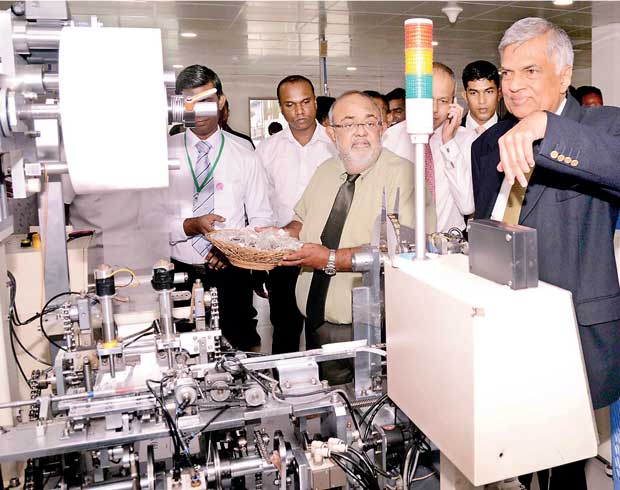 Prime Minister Ranil Wickremesinghe inspects machinery at the new Flexiprint factory at Flinth Commercial Park in Ranmuthugala along with Flexiprint Managing Director Sathis Abeywickrama
Pic by Pradeep Pathirana
By Yohan Perera
The government will soon bring in new laws to control profit-motivated imports in a bid to encourage exports, Prime Minister Ranil Wickremesinghe said yesterday.
"We will bring in laws to control bringing down goods to Sri Lanka for the sole purpose of earning a profit," Wickremesinghe said during the opening of the new Flexiprint factory at the Flinth Commercial Park in Ranmuthugala.
"Those who produce goods for the export market and others who produce various goods for the domestic market should remember that Sri Lanka is moving towards an export-oriented economy," he added.
Last week, addressing a forum in Colombo, Wickremesinghe said, since no success can be achieved by focusing only on the domestic market, continuing to do so would not help resolve the country's balance of payments (BoP) problem.
"The problem we face is a serious BoP position and debt servicing. This can only be resolved by increasing our export earnings. We have to aim for all of us becoming exporters. Domestic market focus alone is not enough, not anymore."
Wickremesinghe sai, China, which is the world's largest exporter, always encourages its industries to capture the global market while serving the domestic market. This concept he noted is followed by several other nations such as Japan, Korea and Singapore.
He said Sri Lanka also should follow this concept and try to capture the global market.
Meanwhile, the prime minister stressed the need for a planned effort to reap full benefits of GSP Plus within the next two years.
"We would not have been able to secure GSP Plus had we not formed a 'Yahapalana government' under the leadership of President Maithripala Sirisena," he stressed.
Flexiprint Managing Director Sathis Abeywickrama said the main objective of his company is to ensure 100 percent customer satisfaction.
He said his company has grown considerably since its beginning in 1994.
"We started with a staff of 250 and are now engaged in converting 5500 metric tons into tags and envelopes annually," he said while highlighting that the new factory would further enhance business.
Flexiprint is Sri Lanka's leading manufacturer of tea bag tags, tea bag envelopes and tagged pyramid mesh catering to the local and international tea trade.
The company has clients in Australia, Bangladesh, the UAE, Egypt, France, India, Kazakhstan, New Zealand, Pakistan, Papua New Guinea, Russia, Saudi Arabia, Tanzania, Kenya, Rwanda, Turkey, Ukraine, the UK and Yemen.