---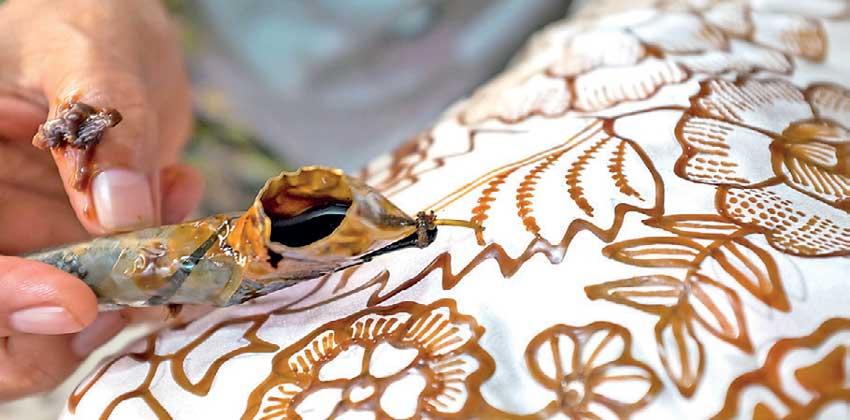 Importation to be through Lanka Salu Sala
Move to bring down local batik product prices
High price due to sole dye importer charging exorbitant prices for dyes
Industry players support government measure
State Ministry to train 10,000 batik and handloom entrepreneurs
In an attempt to bring down the rising prices of local batik products, the government plans to restart importation of dyes required for the county's batik industry, through state-owned Lanka Salu Sala Limited, amidst the accusations of the sole batik dye importer charging exorbitant prices for dyes in monopolising the trade and incurring additional costs for the manufacturers.

Labour Minister Nimal Siripala de Silva, at a recent meeting of the National Coordinating Committee on Livelihoods of Presidential Task Force on Economic Revival and Poverty Eradication, pointed out that the prices of locally manufactured batik apparel articles have been trending upwards.

Responding to his remarks, Batik, Handloom Fabrics and Local Apparel Products State Ministry Secretary R. Sunethra Gunawardena blamed the sole dye importer, who holds a monopoly, for charging exorbitant prices for batik dyes, causing the price hike in batik products.

Therefore, she revealed that the ministry already has taken measures to submit a paper to the Cabinet of Ministers, seeking to import the required dyes for the industry through Lanka Salu Sala Limited.
The measure was backed by industry players, including Eric Suriyasena.
He has backed reintroduction of a mechanism as seen in 1970s, to source the required materials for the industry, including dye, in order to avert the exorbitant prices by importers.

Suriyasena also called the authorities to take measures to set up a water treatment plant in key batik manufacturing areas, to avert water pollution.

The government recently decided to ban batik imports to Sri Lanka, to encourage local production and to save foreign exchange outflows.

Batik, Handloom Fabrics and Local Apparel Products State Minister Dayasiri Jayasekara remarked that it plans to renew former Prime Minister Sirimavo Bandaranaike's policies by regenerating local production.

The state ministry targets to train and develop 10000 youth as entrepreneurs in the field of batik and handloom, to create a conducive environment to the batik, handloom and apparel industry, through the establishment of an e-platform next year and to upgrade the technology by 50 percent in batik production by 2025. (NF)